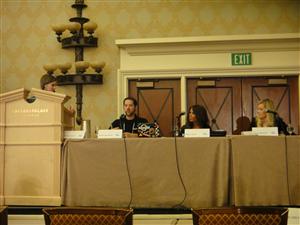 Hi Guys,
Missy Ward, Jamie Reardon, Lindsey Savoie and Jared Saunders did a great Panel at Affiliate Summit Panel #ASW12 on "12 Out-Of-The-Box Affiliate Promotions":
Inspire affiliate loyalty with unique, out-of-the-box affiliate bonus campaigns. Discuss the development, implementation, and analysis of these promotions!
Lindsey Savoie, Merchant Development Manager, ShareASale.com (Moderator)
Jamie Reardon, Digital Marketing, LifeLock
Jared Saunders, Affiliate Program Manager, Jenson USA (Twitter @TurboJared)
Missy Ward, Co-Founder, Affiliate Summit, Inc. (Twitter @missyward)
Here are my notes from the session:
Reasons:
Engage Publishers
Remain "Top of Mind"
Create Loyalty
Build Long Term Relationships
Quick Integration of Links
Encouragement to Exceed Goals
Jared – Don't use monetary bonuses as a sole way to motivate, after a while it will become a crutch and they will expect it
Missy – Having performance bonuses helps in B2B scenarios when looking for exceptional performance
Pay Per Click
– $X for XXXX Clicks – say I am willing to pay an extra lump sum for affiliates who drive more than XXX clicks this month
Missy – Problem – programs don't allow your rising stars to be able to win something. If you can create that type of promotion that also helps motivate them.
Jared – find a way to target the full range of affiiates you have. Engage the middle ground as there are individuals there that are untapped and can be star affiliates so get them as part of your bonus program
Pay for Placement
Missy – $XX for THAT Spot – I am willing to pay an extra lump sum for THAT spot on your website
Can pay fee, or just pay them upfront in lieu of their commissions, you need to know who you are dealing with
Jared – Focus on large brands, try to get on home page
Bonus Structures
Flat Contests
–       Single largest sale
–       Most improved affiliate
–       Highest Single Commission
Missy likes to do incentives so pretty much any affiliate can win something
Raffle Contests
–       One Entry Per Sale Generated
–       One Entry for Unique Post / Contest Page, can create an entry for entry time they put up a blog post that has all the details they want covered
Jared – likes First Sale Bonuses, as gets them going, but could be better to do on 2nd or 3rd transaction so they are not just testing
Standard Setups
–       First Sale Bonus
–       Tiered Bonus
–       New Costumer Bonus
–       Emerging Channel Bonus – can do contest just for mobile traffic, or maybe via any sort of Social Media if you want to get your feet wet in a new channel
Prize Worthy
Experiences
–       Cash is King
–       Paid Trip to HQ for Top Performers
–       Paid Trips to Affiliate Summit / Industry Conferences
Educational Time
–       IT Tech Time
–       Personal Site Evaluation
–       Mentoring at Affiliate Summit / Industry Conferences – like the Affiliate Summit newcomer program where new people can get a mentor to take them around
Prizes & Gifts
–       Pay Site Hosting Site Registration or New Software for 1 Year
–       New Hardware, AMEX Gift Cards
–       Your Product/Service for Free/Discounted
Small things like paying for their hosting don't cost that much but they would really appreciate it
Jared – Even hardware, affiliates work on all these netbooks and devices, can give them one you're your logo when it boots up, you can get it cheaper than they can through your corporate deal with Dell / HP etc, whenever they touch that keyboard, they will think of you, makes much more of a difference than money
Missy – Cash is King though – as many affiliates getting started so while $200 mouse may be cool, many esp mum bloggers could use the cash to put the kids in soccer etc
Do spot promotions, doesn't need to be for everyone just a group, knowing what motivates them and having that connection is what is going to put you in the front of their brains instead of their competitors
Jamie  – Providing your service to them for free, there is really no way for affiliates to really know your product and what it does then to use it, so they can get to know it and review it properly and give honest feedback and know how to promote it better
Non-Traditional 'Bonuses'
–       No reversals Month – but doesn't work in all industries, Jared sells $5000 mountain bikes, commission $250 so tough to say wont reverse that. But can say if the commission is less than $50 we won't reverse it. Or can say, look we found fraudulent sale for that $75 commission, but if you make a few more sales we will bonus you that $75
–       Provide Site Traffic (via customer emails)
–       Increased Commission during Product Launches – and for those that ended up promoting the product can keep their commission up
–       Giant Checks – Lindsey said Shareasale hands out giant checks to top affiliates, gets them some press but more about relationship building
The Formula
Bonus Structure + Prize Worthy = Out of the Box Affiliate Promotion
Get the Word out
Social Networking
–       Facebook Ads
–       Forums – Abestweb, AffilaiteSummit, WarriorForum, WickedFire, WebmasterWorld
–       Company's Social Platform – your blog, affiliate blog, twitter, Facebook
–       Personal Email Blast
A lot of Affiliate Managers miss this opportunity – Customers, if they are buying from you and love your brand, remind them that if you love our product you can also sell it and become and affiliate, and remind them by the way we also have a promotion for affiliates going on
Also there are some heavyweight bloggers that if they put anything on your site you get good results
Promote the Promotion
Advertisting Opportunites
–       Network Ad Placements
–       Placement on Active Bloggers Site
–       Pay Per Click
–       Affiliate Directories
Email Notifications
–       Affiliate Newsletter (in the network)
–       Company Newsletter
–       Also cross promote with other peoples newsletters
Jamie and lifelock use their company's newsletter as well, reaches a broader range of people as not just your affiliates but also send out to your customers, employees to reiterate your promotion
Analyse the Results
(Sale + Engagement)(Traffic + Branding) / (Cost + My Time) = Value
Missy – keep in mind was the promotion that you did right for your business? Take into consideration all the time you spend getting the word out, advertising, when you lay out all the numbers see did it work for the business or are you looking at lifetime value of the customers that you are potentially bringing in
Jamie – Double your commission campaign – was a success  but brought in a lot of fraudulent orders, if they could do it again they would do it for top affiliates only
Missy – or you may hit your goal by getting customers that are just one time customers that won't buy again, there is also credit card fraud, you need to look at the analytics properly
Jared – gets his Sales Reports from ShareaSale and puts them into Excel to compare what is happening month to month, like you can see certain months are peaks so you can prepare and make a promotion for it. You can see the peaks and the valleys and the cycles, so you can prepare for them, can get a promotional calendar set up.