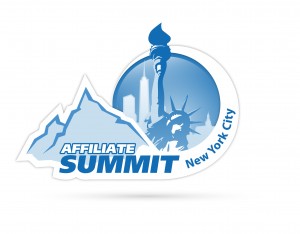 Hey guys,
Here are some tips from the Affiliate Improv! Panel at Affiliate Summit East 2012 in New York with Daniel M. Clark from QAQN, Todd Farmer from Performstreet Media, Trisha Lyn Fawver from Snow Consulting and Jen Goode from JGoode Designs.
3 tips from Todd:
1)      Goals – Always know what your goals are, what do you want it to do for your business
2)      Audience – Also which exact audience are you going for?
3)      Unique Value Proposition – your unique value proposition – what makes you different and what makes you stand out from your competitors?
Jen – figure out unique and creative ways to integrate affiliate offers, it's not just about adding a link or banner to your site
Trisha – like to focus on working smarter not harder, likes tools like if this then that – ifttt.com. Can create things like when you star something in Google reader it goes to evernote or dropbox. Plugin called Post Template for WordPress (by Vincent Pratt) – to create a lot of different templates esp if you are writing the same type of posts over and over again
E.g. Eating out in Restaurants, could focus on child friendly restaurants in a specific area or cities you travel to where you take your kids.
Hyper targeting a local audience – Todd says need to focus as can't possibly cover all the restaurants out there. Goal is for other people "like me", unique value proposition – maybe you are hilarious and film with a video camera, your voice and what you have to say is your UVP. You need to provide value – focusing on helping other people. Participate in Yelp, Google Pages, Plus.
Think about a very specific issue or question that your audience would have – what they would type into search engines – and you answer it. And title your article that question. You can receive search rankings from just answering a simply specific question for your audience.
Jen – start commenting on other sites and build up a following
Todd – tip does your domain name clearly imply or express your UVP – what is it they are going to get out of this website. Like localkidfriendlyrestaurants.com
Trisha – can use something like pinerly to track re-pins on pinterest
Todd – your website is your product, focus hard core on your content
People ask how often can I mail to my email list? Todd says only you know your audience, answer is different for every type of business or website
Have an awesome amazing about page. A lot of time if you look at analytics when people hit your site they go to your about page, that is your chance to sell them on you
Daniel – the about page is the one you want to go crazy on, make it big, bold and put yourself out there. Even add audio and a video.
Todd – in your content, use proper headings, if you have 10 paragraphs, find a way to summarize 2 paragraph chunks and put subtitles, as people skim though
Jen – will sometimes bold the first sentence
Someone asked a question about how often to email. Todd – you want to set expectations with your audience. Before you ever try to sell anybody anything, build rapport and a relationship first. The first several messages should focus on adding new amazing value to this new subscriber.
Todd – said don't worry or get down about unsubscribes – if they don't want to hear from you they are not your target audience
Plugin that replicates wordpress installations – backup creator. You can make a website and put all your favourite plugins, put all the settings, then copy and use it as a template for new websites.
Jen – photos of people would be better than a logo for most blogs, logo makes it look too impersonal like a business. Branding doesn't always mean it has to be a logo, can be your colour scheme that you use. Jen says in case you don't know – don't just grab images from other websites even if you give them credit.
Trisha says favicon.com has lots of great pictures to use. Jen says can use clipart.com to get rights. Can try flickr or google searches with creative commons rights but probably best not to use those for personal branding.
Todd – says fiverr.com is great specifically for photoshop help (Agree, I have been using it lots for that too)
Example – Kickboxing. You could focus on local – like local places to learn kickboxing, could do kickboxing equipment and reviews, tips on how to find a good kickboxing class, books and videos on kickboxing, you could be the number 1 affiliate to sell Jean Claude Van Damme merchandise etc.
Jen – quickest way to get a youtube video ranked. Submit the video to other resources outside of you and get them to link back to your youtube video
Todd mentioned the ViewBix tool where you can put youtube videos on your site and add call to actions during and at the end of the video, integrates with aweber, so you can add call to action like join our email list and get our free reports.
Trisha – popshops.com is a great tool, can even add a page on wordpress sites with related products from popshops
Pretty link Pro WordPress Plugin – make customized tiny urls so you don't have to use bit.ly and have links on your own domain. Use for all affiliate links, as if affiliate program contacts you a year later and says we have changed our links or platform etc, way easier to update one redirect than digging through and having to update every single link and mention out there.