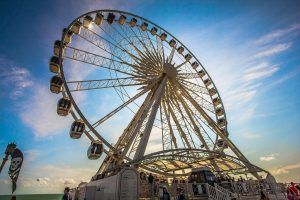 Hey guys, here are my notes from the sessions and a collection of slideshare decks from the BrightonSEO 2016 Conference held on 2nd September 2016 in Brighton UK:
Stacey MacNaught – What can White-hat link builders learn from churn and burn spammers?
How to get links using Image Distribution
Stacey MacNaught from Tecmark showed how to use image distribution for attribution links.
When other sites use your photos you can get links from some pretty high authority sites, like Stacey showed examples of her photos used and attribution backlinks from:
gov.uk/government/news
blog.europcar.co.uk
lonelyplanet.com
Process:
Image based KW research
Image Acquisition/Creation
Host (usually Flickr / Creative Commons)
Optimise Images for Search
Track Usage and Chase Attribution
More info in Stacey's guide at http://blogsession.co.uk/2016/09/image-link-building-guide/
Tools to help find journalists
Cisionpoint
Journalisted
To find freelance journalists:
Freelancedirectory.org
Journalism.co.uk
Specifically, freelance journalists section on journalism.co.uk
Feature and Column contribution
Obtain forward features calendars wherever you can e.g. Calendar lists out ahead of time "2016 features month by month"
Paul Madden – Navigating an ocean of link data, a former pirates story
Paul Madden from Kerboo mentioned one strategy that could be used when disavowing:
Total the Majestic TF from the domains you are killing
And try to put that back in with new quality links
Google Page on Link Schemes: https://support.google.com/webmasters/answer/66356
The correct way to disavow links:
Domain:domain.com
NOT
Domain: www.something.com
Domain:  ftp.example.com
Domain: http://www.example.com/page.html
Also Reavow works, taking stuff out of the disavow file
But don't do unless you know what you and doing and prepared for consquences of doing it wrong
Disavow harshly and you will kill the rankings in the same way a penalty would
Link Outreach Tips
Hi Firstname – is the best converting salutation, 15% best
Links from large media outlets in isolation is not that effective. E.g. The Telegraph, Mail Online, The Huffington Post, The Guardian, Buzzfeed etc. If you just stop once you get a few links from the nationals, that doesn't translate into ranking positions as well as you would think. Due to structure of the site on large media outlets and volume of content, link equity dissolves as pages on those big news sites get buried quickly.
National media links work best when combined with secondary link building (get people to link to that, or use it as proof to get more links). Large media outlets don't seem to provide as much link equity as you'd hope.
If niche publications were included as well as nationals the sites rankings did much better, so vary your link building.
Deeplink from Telegraph had majestic trustflow of 5, whereas link from niche publication periodliving.co.uk had trustflow of 15.
Most content marketing does not get the return to make it worth it alone unless you have the variety. National publications bury the link quickly. Small niche blogs are often too few readers and not enough trustflow or power.
Is the blog itself getting links and coverage, as that is much more valuable. Hence Majestic trustflow.
Some placement observations – blatant still works
Use Majestic TF as a proxy for PageRank now
Variety of backlinks is key
Hannah Bo Banna – Art, virtual snowballs and the feels
Jon Earnshaw – How to avoid a site migration disaster
Aleyda Solis – How to Drive Growth through your SEO Audits: Questions, Validations & Tools to Maximize your Results
Malcolm Coles – SEO for News
A few tips for getting in Google News included having relevant recent content, 2nd search behaviour, click through rate and return rate (bounce rate).
I did a whole blog post on this session by Malcolm Coles from the Telegraph about SEO and Google news, read it here – Google News SEO: How to get into Google News by The Telegraph at BrightonSEO 2016
Laura Hogan – Keyword's aren't dead – that's bull – debunking the myths
Dave Naylor – eCommerce SEO Pitfalls
Will Critchlow – SEO Split Tests you Should Run
Myles Anderson – 5 Trends Shaping the Future of Local Search
Greg Gifford – How to be a Facebook Advert Superhero
Aisha Kellaway – 5 Ways to use PR and fuel your Digital Strategy (Beyond Link Building)
Chris Green – .htaccess Hell – Managing a Migration When There's No Easy Answer
Nils De Moor – How HTTP/2 will change the web as we know it
Helene Hall – Content marketing framework
Simon Bennison – How to put a price on digital content
Martijn Scheijbeler – Content Marketing, approaching it as a publisher
David Whatley – Why local search should be part of your e-commerce strategy
Lisa Myers – How Changing Your Mind can increase Success
Tom Anthony – Emerging Forms of Search
Anna Lewis – Analytics Horror Stories
Will Critchlow – SEO Split Testing to Move Past Best Practices
Olga Andrienko – Tinder Marketing, Science of A/B Testing and Conversion Optimisation
Phil Nottingham – Optimizing video across social media platforms
Berian Reed – Moving the Dial
Laura Crimmons – Finding the value of Digital PR Beyond the links
Will update this with more slide decks and notes plus watch my Keynote at Affiliate Summit New York City on 7 Digital Marketing Strategies for Business – start watching free immediately when you join our newsletter here.