Hey guys,
My new book "Follow Me: Making Money with Blogging, Facebook Marketing & Twitter for Business" has just been released on Amazon Kindle – it contains top secrets I've learned from travelling the world learning from leading experts and the best of the best from all my presentations including at SMX Sydney / Melbourne, the largest Affiliate Marketing conference in Australia, Affili@Syd, the largest performance marketing conference in Europe, A4uExpo Munich, and the largest Affiliate Marketing conference in the world, Affiliate Summit in New York City.
Plus this week I'm donating all royalties to the Avon Walk for a Cure for Breast Cancer Research as part of #book4boobies so grab a copy from the Amazon Kindle store now and support a great cause (you don't even need a kindle – download and read instantly on your PC, Mac, iPad or anywhere!).
Here's a teaser of the description from the Amazon kindle store:
Former NSW Young Entrepreneur of the Year and SMX Idol Winner Dave Cupples shares 7 Secrets for Making Money with Blogging, Facebook Marketing and Twitter for Businesses, along with leading Social Media case studies from around the world and the most effective tools and actionable cutting edge tips, including: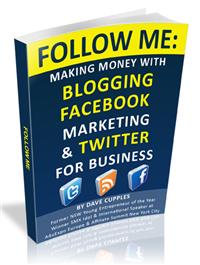 • Tips & Tools for more Facebook Likes, Twitter Followers & Blog Subscribers
• How to spy on competitors and copy their most effective tactics
• How to get maximum clicks and lowest CPC with Facebook Ads
• Most effective ways to incentivize users to supercharge Email Opt-Ins and Facebook Likes
• How to literally grab followers straight out of your competitors database
• Tips & Tools to leverage twitter to get your content shared by influencers
• Best tools such as WordPress Plugins, many free and open source
• How Social Media is changing the web – what actually works and rakes in the $$$ based on amazing examples and unique case studies
And much more!
A must read for any businesses wanting to skyrocket new leads and supercharge revenue using Facebook, Twitter and Blogging.
As I posted earlier this week I have teamed up with a whole group of friends, leading speakers and expert authors from around the world and we are all giving all the royalties from our books this Valentine's Week to the Avon Walk for Breast Cancer – the full list of books are in my earlier blog post here, support these generous authors by buying their books and LIKING and SHARING this post with everyone you can!
Thanks for all your support 🙂