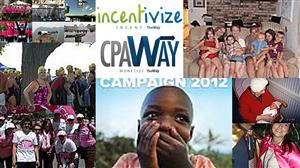 WOW I am in awe of what these awesome peeps are doing for charity so this has been one of the coolest things I have been involved in. For those not in the loop, I was lucky enough to be Keynote Speaker at Affiliate Summit in New York City a few weeks ago so I used the opportunity to officially launch DonateSponsor.org, the world's first Charity Fundraising Social Network in honour of my twin and close cousin Jim (watch the video and DonateSponsor dares/shenanigans in the last 10 mins from 39.29 here):
We had a charity auction to wear a company's t-shirt in exchange for a donation http://www.casinoin.us/ to charity – big thanks to Thomas Dietzel from CPAWay and Incentivize.com who came on board straight away with a $1500 donation. People were invited to submit any official fundraising pages from any government registered charity to DonateSponsor.org and the $1500 donation would be donated via the Top 10 Fundraising Pages that had got the most votes by the end of August.
Many great causes were posted and many of the top finishers actively posted to their followers for votes which helped everyone and brought even more people to join the DonateSponsor community so big thanks to everyone who submitted and voted for all your support.
We had some very cool incentives and dares offered to encourage donations, such as Missy's competition to win a Nexus 7, Vinny offering backlinks from his websites, I dared to plank on stage in my Affiliate Summit Keynote and Steph dared to bust out in the middle of the keynote as Wonder Woman!
The most popular charity with 5 winners in the Top 10 was the Avon Walk for the Cure for Breast Cancer and $750 in donations went to fundraising pages for this very worthy cause.
The donations have all already been made and you should see them on each of your fundraising pages marked as from Incentivize.com / DonateSponsor.org!
So without further ado, here are the winners of the $1500 donation for August 2012 – just published on DonateSponsor.org:
1st Place – $300 Donation
24 Votes
Tricia Myer – Avon Walk for the Cure for Breast Cancer
2nd Place – $250 Donation
20 Votes
Jill Swartout – Swim Across America – for Sidney Kimmel Cancer Research Center
3rd Place – $200 Donation
17 Votes
Heather Romiti & Elsa Roberts – Cystic Fibrosis Foundation Great Strides Walk
4th Place – $150 Donation
12 Votes
Karen Garcia – Avon Walk for the Cure for Breast Cancer
5th Place – $100 Donation
11 Votes
Missy Ward – Avon Walk for the Cure for Breast Cancer
6th Place – $100 Donation
10 Votes
Dave Cupples – Damon Runyon Cancer Research Foundation Runyon5K
7th Place – $100 Donation
9 Votes
Vinny O'Hare – Avon Walk for the Cure for Breast Cancer
8th Place – $100 Donation
6 Votes
Stephanie Leichenstein – St Jude Children's Research Hospital Give Thanks Walk
9th Place – $100 Donation
5 Votes
Shawn Collins – Avon Walk for the Cure for Breast Cancer
10th Place – $100 Donation
2 Votes
Paull Young – charity: water
All of these awesome people are still fundraising for some amazing causes so please check out their pages and do consider making a further donation to them yourselves 🙂
Hopefully we can get even bigger and better from here and raise even more money!
Make sure you guys thank Thomas Dietzel and @CPAWaycom and @IncentivizeInc as without their generous donation this would not have been possible!
[CLICK TO TWEET]: Just got a big $ donation for my charity fundraising page- Thanks @CPAWaycom & @IncentivizeInc via @DonateSponsor http://incentivize.com/
Also keep spreading the word about DonateSponsor on your Blog / Facebook / Twitter, would be really appreciated 🙂
[CLICK TO TWEET]: Anyone fundraising for charity? Submit your fundraising pages, charities & events to @DonateSponsor at http://donatesponsor.org/ *Pls RT*
P.S. We are seeking more business sponsors to come on board for this month, which involves pledging a donation direct to charity (that will go to the Top Fundraising Pages with the most votes at the end of the month) and we give your business a blog post and featured sidebar links from DonateSponsor.org which is now getting thousands of visitors a month, as well as posts to all our Email, Facebook and Twitter followers. Contact us or email dave 'at' fatcowbusiness.com and let us know the maximum donation you would be willing to offer.