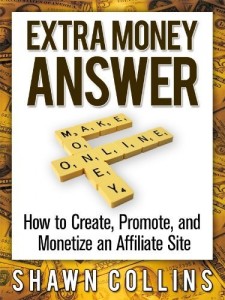 * Extra Money Answer is available to download on Amazon Kindle FREE for Tuesday 26th Feb and Wed 27th Feb 2013 only so if you get in quick you can download it now for free *
Many friends ask me how to get started in affiliate marketing and how to start a blog or website and Shawn Collins has just released an excellent step by step guide called "Extra Money Answer: How to Create, Promote and Monetize an Affiliate Site" on Amazon Kindle which I highly recommend you check out.
Unfortunately when it comes to creating an online business there is a lot of BS out there by gurus who just hype people into a frenzy in order to sell some get rich system. This book is completely different and is not selling anything but simply designed to genuinely help people with actual step by step tutorials and resources. It is one of the few guides out there I would feel comfortable recommending to friends and family.
Shawn is the co-founder of Affiliate Summit (the world's largest Affiliate Marketing conference) and has been actually doing this stuff since the 1990s. The books tagline is to provide "a real and honest picture of the opportunities in affiliate marketing" and "how most people don't make much at all, and that it requires lots of time, testing, and patience".
This is a really great book for beginners who want to cut the crap and hype and actually learn step by step how to get into affiliate marketing and setup a website, email list, affiliate links and learn the basics of driving traffic.
It is most suited for beginners and goes through different things involved in detail and really goes step by step with actual screenshots of how to set things up using some of the most popular providers.
Some of the topics and tutorials covered in Extra Money Answer include:
– Picking a topic for your site
– Step by Step Guide to setting up your domain, hosting, nameservers and wordpress (with screenshots)
– Email Marketing, including screenshots of how to use Aweber to create an email newsletter, add email signup forms to your site, setup RSS to Email, Email Newsletters and setup email follow-up autoresponder series.
– Creating Social Media Pages like Facebook and Twitter for your site
– Generating Traffic, including using Youtube videos to drive website visitors
– How to find Affiliate Programs
– How to setup Affiliate Links and add them to your site, including a step by step run through example with screenshots using ShareASale (one of the top Affiliate Networks)
5 handy tips from Extra Money Answer:
– Set up Google Alerts to keep track of news and new resources on your topic
– Use the Free WordPress Plugin Pretty Link to create short tracking urls for your affiliate links
– Use Networkedblogs to automatically publish new posts from your blog to Facebook and Twitterfeed to publish new posts to Twitter (I use and recommend these two as well).
– Use KnowEm which enables you to search over 550 social networks and check if your username is available
– Use Paper.li to create an online newspaper from Twitter, Facebook and RSS feeds automatically (I think this is a great way to kick start partnerships with other bloggers where you share each others content). Shawn uses this method to publish a daily newspaper with articles from Affiliate Summit speakers
Even the normal price of $2.99 is extremely cheap considering the hours of work and detailed explanation that has gone in – especially if you are a beginner I would highly recommend you grab this (and leave Shawn a quick review on Amazon too):
>> Download Extra Money Answer by Shawn Collins on Amazon Kindle Now