Flexsqueeze Theme Review
As its name implies, Flexsqueeze 1.5 also known as the Flexibility 3 Theme is incredibly dynamic and contains a massive amount of plug-ins, configurations, tutorials, graphics and almost anything else you might want in a deluxe WordPress theme.
This theme allows you to modify almost any aspect of your site through its sleek interface. Literally every element of your sites layout can be modified. This includes fonts, backgrounds, navigation styles and color schemes. Take advantage of the current Flexsqueeze discount code to add even more flavor to your site.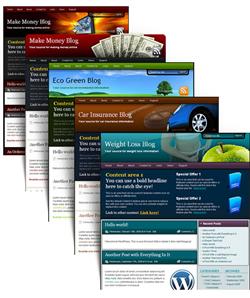 Since I feel like I often spend a lot of time stripping a WordPress theme of things I don't need for my site, I really liked some of the preset styles that come with this theme. I especially enjoy the pre-loaded navigation styles and the "quick change" settings. The fact that you tell Flexsqueeze if you want to make a blog or a website means you'll spend a lot less time trying to make WordPress look like a website when it is meant for blogging.
The fact that this is a one-time purchase that you can use on many sites makes this theme a real steal. You can see in their gallery of sites how drastically different sites were created using only this tool. I really feel like this theme deals with some of the most common annoyances of working with WordPress.
Upgrading to a full membership or using the Flexsqueeze discount code unlocks even more skins and graphics. The niche header creator even takes this one step further; Imagine a wizard-like interface that lets you design brilliant, eye-catching headers by combining different fonts and stock graphics. Any serious web developer will want to have this tool in his or her arsenal.
Check out Flexsqueeze today and enter the Flexsqueeze Discount Code "IMNicheFormula" for 15% off