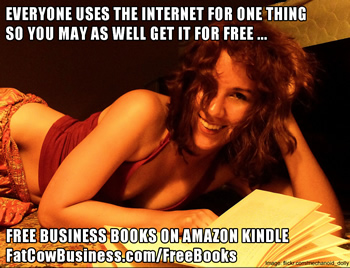 I have been getting more and more booty texts lately from people wanting me to come over late at night and have a "hot chocolate" and get advice about "Blogging", "Affiliate Marketing" or "Online Marketing" for their ecommerce store or business … I can't take it any more so I am giving it away for free and so are my friends!
To keep everyone satisfied I have teamed up with my friends and colleagues who are the top experts in the world and we are offering our best online marketing books FREE to download on Amazon Kindle from Feb 28th- March 3rd 2013 only!
Consider this your 5 Day Hall Pass with NO catch – you do not even need a Kindle or any software even, you literally just need to click the mouse once with Amazon's one click checkout and you can read the purchases in your browser instantly right now! All we ask is you be kind enough to leave a quick review at the bottom of the Amazon Product Page if you like the book, even that only takes seconds and less time and effort than sending a booty text! Plus we guarantee these books will satisfy and not leave you frustrated!
Make sure you grab the free downloads NOW while you still can and please spread the word especially to any friends with blogs or online businesses – Invite your friends to the Facebook Event, Share it on your wall, and click the buttons on this post to easily share on Facebook and Twitter!
[CLICK TO TWEET]  Everyone uses the internet for one thing … so you may as well get it for free! http://bit.ly/VQ8atJ #free #marketing *Pls RT*
[Cut and Paste this Facebook Update]:
Everyone uses the internet for one thing
So you may as well get it for free …
FREE Business Books on Amazon Kindle – this week only!
http://FatCowBusiness.com/FreeBooks
Top Business and Online Marketing Books available FREE as part of the promotion:
The Four Year Old Entrepreneur: 7 Secrets to Making Money with Blogging, Facebook Marketing & Twitter for Business

By Dave Cupples

This book will be free on Fri March 1st and Sun March 3rd, 2013 (Midnight PST = 7pm Sydney Time)

The Four Year Old Entrepreneur is my book (by former NSW Young Entrepreneur of the Year and SMX Idol Winner Dave Cupples) and includes the best of the best from my presentations around the world including at the largest performance marketing conference in Australia (Affili@Syd), Europe (A4uExpo in Munich) and my recent keynote
at the largest Affiliate Marketing Conference in the world, Affiliate Summit in New York City (where I launched this book).

It is packed with the most effective tools and real actionable cutting edge tips including how to spy on & copy competitors, get more Facebook likes, Twitter followers & Email subscribers, secrets to getting shared by influencers & much more! Plus learn why social media fans are like women & how I earned my first $100 at age 4 & learned the most amazing lesson in life.

Plus get free access to my bonus videos and speeches from around the world and step by step guides at 
FourYearOldEntrepreneur.com

Would LOVE reviews on Amazon plus reviews on your blogs or shout outs to your Email/Facebook followers 🙂

How To Start and Run An Affiliate Program from the Voices of Affiliate Marketing (Merchant ABCs)

BBy Angel Djambazov, Jeannine Crooks, Karen Garcia, Liz Gazer, Deborah Carney, Vinny O'Hare, Amy Ely, Kim Salvino, Eric Nagel and Shawn Collins (Foreword)

This book will be free from February 27-March 3, 2013

If you are one of the many people who have asked me for advice about setting up an Affiliate Program – read this book!

I have met and seen just about all the authors in person and seen them speak at Affiliate Summits in New York and Las Vegas – these guys have years of experience and are the top experts in the world on this subject so they know their stuff.

They have put together what is pretty much an encyclopedia on Affiliate Marketing for Merchants. It really is several books put togther in one. Topics convered include how an Affiliate Program works, whether a merchant is ready for an Affiliate Program, basics for an Affiliate Program Agreement as well as good tips for recruiting affiliates and boosting sales with existing affiliates through things like newsletters and seasonal promotions.

My only issue is that listing it for a few dollars on Amazon is absolutely ridiculous – companies out there should be paying thousands of dollars for expert advice like this!

Facebook + Email = Success (ABCs Plus Basics for Websites)

By Deborah Carney, Vinny O'Hare, Dave Cupples and David Iwanow (Editor)

This book will be free from February 27-March 3, 2013

This book is based on a podcast interview with Myself, David Iwanow, Deborah Carney and Vinny O'Hare. I had just
returned from speaking at A4uExpo Europe so had lots of the latest studies and tips for Facebook Marketing, plus my co-hosts have also spoken at the world's top conferences including Affiliate Summit in New York City and are experts in Facebook Marketing, Email Marketing and Analytics so had some great tips about what really works. Not only do
they have real hands-on experience but more importantly they don't hold back on sharing and are genuinely helpful to others.

Really useful tips about how to give value first and tips for getting traffic and sales from Facebook.

Affiliate Program Agreement Essentials (Merchant ABCs Basics for Successful Affiliate Marketing)

BBy Eric Nagel, Vinny O'Hare and Deborah Carney

This book will be free from February 27-March 3, 2013

Includes topics to cover in your Affiliate Marketing agreement such as Search Engine Marketing restrictions, direct
linking, domain names, coupon and loyalty sites, frames, adware, spyware, toolbars and more.

Affiliate Marketing Then and Now

By Scott Jangro, Deborah Carney, Todd Crawford, Brian Littleton, Connie Arnold and Todd Farmer

This book will be free from February 27-March 3, 2013

A discussion about how Affiliate Marketing started, how it has changed and where it is heading from a panel of experts who have been involved since the beginning.

These guys really do know their stuff and are the top experts out there as many have created networks and software since Affiliate Marketing began.

A few tips were that often the smaller networks seem to be faster to bring in new technology, and many agreed that
affiliates in the future must rely less on getting free search traffic from google which is becoming more competitive and really building your own customer base.

They also discussed problems like Google Adwords accounts getting shut down which many affiliates can relate to.

Interesting reading for anyone involved in Affiliate Marketing industry.

Affiliate Marketing: The Complete Guide For Beginners (Affiliate Marketing – Mastering Internet Marketing)

By Todd Farmer

This book goes free at Midnight PST February 28 – March 4, 2013

This is a really comprehensive guide which is highly recommended.

Todd has been one of the leading experts in Affiliate Marketing since the beginning, creating one of the first Affiliate Tracking and Management software solutions in the late 1990s. I saw Todd speak at Affiliate Summit in New York and he not only knows his stuff but is excellent at explaining and helping others.

This book explains all the basics of Affiliate Marketing for beginners, including the different players, things like tracking, types of Affiliates, ways to generate traffic and basically gives you a solid foundation to get started.

The Basics of Affiliate Success: Running a Business (Top Secrets of Successful Affiliate Marketing)

By Billy Kay and Liz Fogg (Editor)

This book will be free from February 27-March 3, 2013

Billy is an industry veteran has been involved in Affiliate Marketing for years and explains the top secrets of Successful
Affiliate Marketing and how to run your sites like a real business.

Choosing the Scope and Structure of Your Blog (ABCs Plus Basics for Websites and Blogs)

By Liz Fogg, Deborah Carney and Tricia Meyer

This book will be free from February 27-March 3, 2013

Great tips about choosing a niche topic for your blog and how to structure your blog. Plus they discuss basics like why
having your own hosted blog and domain running wordpress is best compared to blogger and the free options, something beginners take a while to get their head around!

Includes 2 parts:

Part 1 – Choosing a Niche vs General Blog

Part 2 – How to Structure Your Blog

What is an Affiliate Program and How Does it Work? (Affiliate Marketing Basics from Merchant ABCs)

By Deborah Carney, Vinny O'Hare and Amy Ely (Editor)

This book will be free from February 27-March 3, 2013

These guys have been managing Affiliate Programs for Merchants for years so if you are a merchant looking at different options and want to understand more before starting an Affiliate Program recommend you check this out!

This is a transcript of a podcast discussion and includes some handy discussion about starting an affiliate program,
optimizing your website, comparing in-house tracking vs an affiliate network and various details involved in setting up and running and affiliate program.

Best Practices for Coupon Sites (ABCs Plus Basics for Websites)

By Jeannine Crooks, Deborah Carney, Vinny O'Hare, Amy Ely and Kim Salvino

This book will be free from February 27-March 3, 2013

Great tips for affiliate coupon sites, including tips for working with merchants for getting sites approved, getting
exclusive coupons and not falling foul of regulations. They also discuss handy tools like the For Me To Coupon Feed and Sharesales Network Deals Database.

SEO For Blogs (ABCs Plus Basics for Websites and Blogs)

By Vinny O'Hare, Eric Nagel, Deborah Carney and Tricia Meyer

This book will be free from February 27-March 3, 2013

Some good quick and actionable tips here to improve your blogs SEO and get more traffic from search results. The guests for this podcast Eric Nagel and Tricia Meyer are very successful affiliates who know their stuff!

The Appendix at the End is really handy! Make sure you check that out as it lists lots of handy tips and plugins, like
Wordpress SEO Plugin by Joost de Valk, Use postname for permalinks in Wordpress, Google XML Sitemaps by Arne Brachhold and links to submit to Google Webmaster Tools.
There are also a whole stack of excellent Art and Photo Books so check those out – plus by leaving a review you can win a print copy of the books!
As always please leave some reviews and share and spread the word!
[CLICK TO TWEET]: *Pls RT* Awesome #FREE Online #Business Books on #Amazon #Kindle – this week only! http://FatCowBusiness.com/FreeBooks