I've been using some twitter tools (best one is Tweet Adder) which allow you to automatically follow all the followers of another user, or users with keywords in their profile or tweets. If your account and tweets are relevant, a large chunk will follow you back. And those that don't you can automatically unfollow to keep within Twitter's ratios. As once you follow 2000 people, you can only follow 10% more than however many followers you have.
Now just be warned, if you follow or unfollow thousands of users at once, you can get accounts blocked. So the best practice is:
Don't click mass follow thousands at once, just queue the software gradually over time to follow under 200-300 people a day, under 100 unfollows a day and wait 3 days before unfollowing. Those are the defaults of Tweet Adder and are pretty safe.
Say you had a Diabetes website, almost every state in America has diabetes associations and you could follow all their twitter followers.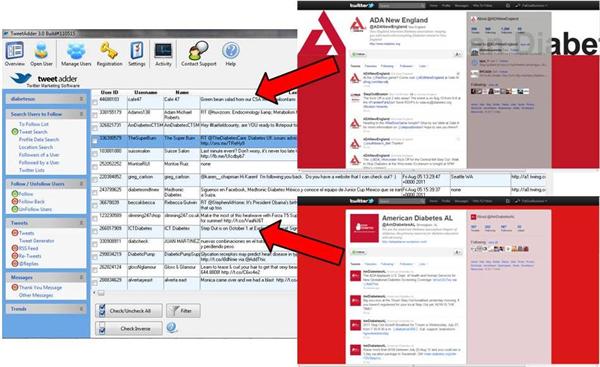 This needs to be very tightly targeted in order to work, following Justin Bieber's followers won't work, much better to follow users from a smaller list or association that tightly matches your target market, and use this sensibly in conjunction with valuable tweeting. The more useful tweets you send out, the more tweets with popular hashtags, the more twitter lists you get on and definitely the more retweets and mentions you have the more followers you get.
Nadia Aly, Community Manager, Microsoft at Social Media Marketing Las Vegas 2011 in her presentation said she has had accounts blocked when following 400 people a day, but just wrote to Twitter and had them restored.
Also at Social Media Marketing Las Vegas 2011, Pierre Zarokian from SubmitExpress did a talk "Twitter Tools & Automation" and said using TweetSpinner he followed 12,000 of Matt Cutts followers, only 12% followed back.
I have heard many people have also found that on keyword following you get more people following you back then when you try and just follow other peoples followers.
Tweet Adder can give you a useful boost at the start, once you have a few thousand followers people often retweet and recommend you and you can go viral.
Tweet Adder has a free version you can download and you can also use our Tweet Adder Discount Code.
Make sure you join our newsletter for our free ebook and videos on Making Money with Social Media!
What are your experiences guys? Would love your comments how many followers and unfollowings you have been able to accomplish with tools like Tweet Adder, and any tips you can share with the rest of us!