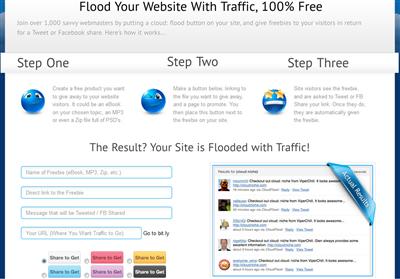 Cloudflood is completely free and really cool, instantly create a free share button to put on your site, and the customer has to click that and share on Facebook or Twitter in order to unlock some free content.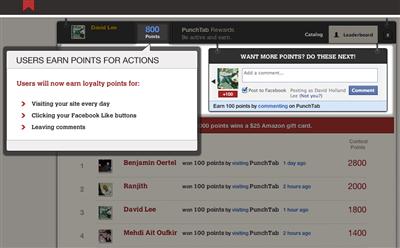 Punchtab also uses Facebook Connect and users can earn loyalty points for free content or competitions for every action they take on your site, like clicking like, sharing, commenting. It comes as a WordPress Plugin and is easy to install, the free version is also great and comes with many prizes automatically built in like gift vouchers for major online stores once your users earn enough points by commenting / sharing content on your site.
List Eruption is another one that I actually use on my blogs. This doesn't require Facebook Connect, once people sign up to your email list, I give them a custom link and say, share this to all your friends on Facebook or Twitter or anywhere. If 3 of your friends sign up your can access these free ebooks, and if 5, 10 sign up you get to access all these freebies at every step! This is worth checking out as sometimes people are reluctant to allow a Facebook or Twitter application to access their account, with List Eruption they just share their custom URL themselves via any means they want to all their friends.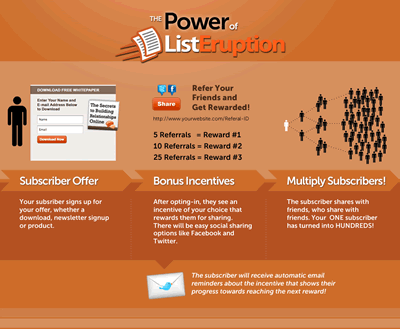 Viral Easy Profit, also known as Social Easy Share, lets you hide selected content on the page which is unlocked by sharing on Facebook, Twitter or even Google+. This has much more advanced features than cloudflood as it adds extra buttons to your wordpress admin, and while writing a blog post you can highlight certain content in your article and just click a button to replace it with any "Share to Unlock" button that you have set up. Viral Easy Profit also allows you to capture emails and build your list directly from Facebook. Your user doesn't have to enter their name or email, they just click to authorise an app via Facebook Connect, and it will grab their Name, Email and all of their details without them having to type it all in! Plus they are the real working primary Facebook email addresses that people actually use and check!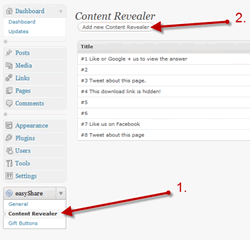 You can use these content revealers and incentivize sharing using:
Articles – Such as Top 10 lists- Give them Tips 1-5, then to see tips 6-10 they have to share!
Discount Coupons – Click LIKE to reveal the discount coupon code
Videos – even better you can give create a series, part 1, part 2 is free but for part 3 have to share
Any type of Media files – Photoshop graphics pack, pdf files, zip files, software downloads
Also competitions or even an ongoing loyalty program …
Download Viral Easy Profit now or read full Viral Easy Profit Review.