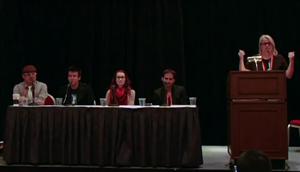 I was lucky enough to get to cover a very informative session "Programming your Youtube Channel to Succeed" by the International Academy of Web Television at 2.45-4pm on Wed Jan 11 at the Venetian as part of the 2012 International CES.
Join some of YouTube's rising stars and Premium channel creators as they share some of the best practices that will lead to success and financial rewards on the largest video sharing site on the internet.
Moderator:
Margaret Healy, Head of Partner Engagement, YouTube
Panelists:
Bernie Su, Creator / Writer, Compulsions, YouTube Premium Content Channel
Philip DeFranco, Creator, The Philip DeFranco Show
Felicia Day, Creator, The Guild, Dragon Age: Redemption
RJ Williams, CEO, Young Hollywood Network (YHN)
Here is the video and below are my notes from the session:
About scripted content on Youtube:
RJ Williams – TV Shows don't necessarily translate to being successful on the web if you just make it the same. On the web and youtube – people like snackable content, better to have 2 minute bites than an hour show like Television, so people can go exactly to what they want to see
Felicia Day – need to do social networking, press, interact with people on a social level, that's what you need to do to get scripted content to work on the web. Your work starts after you make your videos. Has 45 crew members and 200 extras, takes lots of prep for scripted content.
Says LA is very expensive to shoot scripted, very high location fees. Easier to do scripted productions in Austin, Portland, other cities.
Philip DeFranco – very hard to do scripted content, as very hard to run a company on an [insert blank CPM], Phil says really easy to do unscripted which is why he has done it
Bernie Su – The actual scripting / writing is cheap, but the execution is usually expensive. But may be able to construct it to fit on a smaller canvas using a room or two. If less people and space the economics can make sense. Says even TV series must fit a certain budget like $1-5m, so you can't do the Matrix every week, but you can do something like CSI which is set in a lab.
Goal may be something else, you may want to showcase your talent, then views doesn't matter so much, more who sees it like agencies and producers.
More advice from the panel:
Felicia Day – A lot of personalities on Youtube – they are saying something unique that is not found in other places.
RJ Williams – Youtube is about catering to a specific niche audience and getting a loyal following, use youtube insights to see who your audience is.
Different to traditional television, community talks to you and leaves comments and tells you what they like and what they don't like
Said 90% of their content that showed up high was vampire related, that group that is seeing those type of films like twilight etc are their audience. So put something you know your audience is going to respond to. CW is also popular with their audience, so if they put someone from Gossip Girl, their views would go through the roof. So put things that relate to your audience, not just a random celebrity for the sake of it.
Philip DeFranco – Use playlists – once the content stops it goes to the next one
Youtube is huge on mobile
Xbox apps – 50% mobile or on an Xbox system
The less steps for people to watch your content after you have that person hooked into your audience the better, whether it be playlists etc, that's how you get lifers, the people that really care about your content and want to consume it at any time
Phil says they focus on merchandise, does better than adsense.
Says a big thing for mobile will be playlists working properly
Merchandise can be huge if working with the right company
For people starting out, should they start as a personality or be episodic?
Felicia Day – says the success of the Guild was because she was a personality behind the show, personally said every blog entry, responded to all the comments, started on youtube and grew big on youtube, moved to xbox. What makes something successful on youtube is that the community comes first, so new ways to interact with people like twitter, Facebook allows you to maintain connection with community. So even when show was moved off Youtube the Facebook/Twitter communities allowed her to keep the connection and keep interacting, so it didn't feel like she took the show away and they couldn't interact with it
Great to have an advocate person for them to latch on to
Shouldn't be just feeding an anonymous mass a piece of content, Felicia says the reason she does it is to interact with the audience and to have that one on one connection.
Bernie Su – for longer feature film content, may be better to keep in under wraps and try to find a distributor or take it to film festivals
RJ Williams – once you get a couple you can create a sizzle reel, once you show how you have been embraced by other people, people will want to be a part of it. Hard to get someone like Justin Bieber on board straight away, but try and start with someone in your niche, someone smaller and try for a snowball effect. You want to start by creating content and good content, if you don't have a track record and haven't produced anything it is tough as people only want to work with the top tier.
Bernie Su – Get better with what you can control
Felicia Day – people who are celebrities get asked to do interviews and things all the time – what are you offering that is fun and unique, that is different from everyone else? That will help get an audience?
Tips for converting views into subscribers
Post regular content so they expect to see it in their screen
Call to action
Felicia Day – have people invested, The Guild people knew they wouldn't be able to make any more without some donations via PayPal
RJ Williams – Content is Content. It's not about being on television, the content is all over the place, on your ipad, on the television, mobile
Bernie Su – regarding the call to action to subscribe, at the end of the video, many people would say "hey if you like this video" and would point in the air above them to the subscribe button, you will get notified when we have a new videos. Even scripted content channels do this, at the end of each episode, they come on as themselves as the actor and talk to the audience and ask them to subscribe and like and do all these things. So not unusual at all to say, if you want to see more, please do X.
Philip DeFranco – This is another example of showing the personality of the characters. Youtube  is 90% personality based.  People want that connection.
The future of Youtube
Margaret Healy – 60 hours of new content a minute.
Bernie Su – wants to be able to do more with annotations, wants to be able to do more seamlessly than just connect to other videos. Would also like to see mobile youtube apps have a more robust annotation system like what you see online.
Philip DeFranco – wants to see more robust features on apps, mobile devices, xbox and subscriptions working 90% of the time.
Felicia Day – at the end of the day, everybody is starting from zero with their new channel. Interesting to see how people with big numbers of subcribers grow. Says she is not a gambler but gets a thrill like gambling when she releases a video, as can't wait to see what people like. No matter how many ad dollars you put behind it, there is an amazing grand democracy to send the video out and see what floats to the top.
RJ Williams – Youtube made it very clear that they are just the platform. Content creators are given the power as they understand the audience and what you want to see. We are in control of our own network, if views/subscribers aren't there, if shows aren't working. So you as the content producer will be the one cancelling or producing the shows, not being told what to do by the network, so you are in control of your own destiny. Would love to a feature for subscriber only content, so can have something that only people who subscribe to your channel can see.
Question was asked about asking the viewers to pay to produce the content, rather than businesses sponsoring it. Felicia said hard to make crowdsourcing to work for scripted content, says the Guild was unique as already established and a sponsor was willing to jump on board. Constantly changing with who has money to give you and what their goals are.
RJ Williams – we haven't seen a massive smash hit on youtube that's been as big as a mainstream movie of TV series, but somebody is going to hit it