As a long time entrepreneur and successful internet marketer, I can tell you that online business success requires more than just having a website or a blog. It takes work. You don't necessarily need to have tech skills or know HTML, CSS, etc., but you do need the proper tools and process in order to achieve success.
SBI Site Build It by SiteSell is one popular program I've looked at that provides an ever evolving all-in-one Web site hosting, building and marketing suite of tools. Thousands of people use it and many are doing extremely well. I have been blown away at times seeing how much traffic, high rankings and money people can make with niche sites powered by SBI – see some of the stats on this proof page.
From what I've seen, SBI provides a very practical solution for people who want to build an e-business without getting lost or sidetracked with so much to learn. It's an excellent program for just about anyone really, whether you're just starting out or maybe you've been blogging for a while but just aren't earning much.
If you have the desire and motivation to earn income on the internet, you would benefit from using an effective, efficient all-in-one system like SBI that will lead you step-by-step to growing an income earning business over time.
SBI first caught my attention when I saw several videos on You Tube that were not only quite informative but straightforward and educational. I have actually showed these to many friends who want to get started with making a website as they explain really simply step-by-step how to build an online business.
For example, take a look at this particular playlist…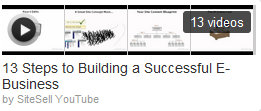 This 13-part video series is taken from the SBI Action Guide and walks you through 13 steps to building a successful e-business. Whether you're blogging or wanting to build a regular site, the info in these videos provides insights into what you may be missing.
While watching the videos, you'll start to see that the program pretty much comes with everything you need to get started, develop and grow an Internet business. You won't need to worry about looking for separate hosting and paying for all the usual extra plugins or tools for research. Many of the functions are automated (like SEO), removing loads of technical barriers so you can focus on building your business.
I've participated in many online forums. If you have too, then you know that not all of them are well monitored or stay on topic. The SBI private forums, however, are closely monitored and provide tons of friendly, helpful support from other SBI users. It's full of niche business owners who engage and interact 24/7.
Equally impressive is the fact that you'll receive unlimited technical support (at no extra charge) with real people to help you and it's included. All this adds up to giving you peace of mind and allowing you to keep your business moving forward.
Find out more about SBI here. Or if you have any questions that you want answered by someone who is long experienced with SBI, you can submit them via this form and you'll get an answer from a real person.