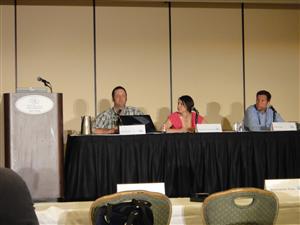 Hey guys,
My friends Stephanie Lichtenstein from MicroMediaMarketing.com and Joe Souza from WhatDoesJoeThink.com did a great panel at Affiliate Summit East 2011 in New York City on Social Media in Niche Markets.
So we thought we would give you guys some top tips from Steph and Joe's #ase11 panel for using Social Media Marketing in Niche Markets to generate followers, traffic and sales.
Steph made a great point to start, that:
1-      Social Media is not straight up marketing as in selling and pitching – do things that are more interactive and engaging
Joe added, the biggest thing in Social Media is – don't be a tool, you are having real conversations with real people, answer their questions, pay attention to what people are saying about you
2-      Be consistent
Steph – you don't want to bombard people, recommend once a day on Facebook Mon-Fri, whereas Twitter is a different platform. On Twitter it's OK to post much more frequently and have lots of conversations with people
Joe – On Facebook do 1, 2 maybe 3 posts a day
Whereas on Twitter – may get 20 or 30 tweets a day going
3-      Tailor to twitter and Facebook
Steph – Don't link your Facebook and Twitter together, because e.g. on Facebook if you want to link to another fan page to get more exposure, you have to like that fan page, whereas in twitter you can say @affiliatesummit without having to follow them.
Facebook is also different to Twitter with more space, images. Steph says post around once a day when it comes to a Fan Page, people are easily turned off and can unlike your page when they see you several times in their news feed and they want to see more personal things
4-      Ask social questions
Steph – gave the example of Dominos, they posted on Facebook – click LIKE if you are happy if your kids are going back to school – got thousands of likes and comments, it gets them pushed up peoples news feeds so future updates by Domino's appears in news feeds more
Joe – Ask questions – who is going to the game this weekend? Who is your fav player? Gets people talking which will push up the edgerank too
5-      Have conversations with influencers and mention other Fanpages in your updates
Steph- Worth taking the extra minute or two to find the Fanpage, link to it, then you get the extra exposure to yourself, if you mention a page with 2 million likes you appear on their wall (Note by Dave, so when posting on your own Facebook Page, you can go and like another page like say Dominos, then when typing your status update if you type @Dominos it will actually link to that other Fan Page and can appear on their wall as a mention too)
Joe – the more you can interact with these people that are the most vocal in your niche, the better
Steph – Got involved with the Affiliate Summit niche, so would write blog posts featuring top sessions in Affiliate Summit, or write things about people in the industry, these are top picks, include people you are recommending – you are giving other people props, that is a great way to make connections with other people. That will give you potential opportunities to connect with them.
Joe – when you get a response back from celebrities with large followers, you get a bump in your followers because all their followers see you
Steph – Besides following hashtags or keywords, also check out Twitter lists e.g. affiliate summit speakers twitter list.
A great tool they mentioned to find influential people on Twitter is WeFollow.com – this lists top influencers in each category like you can view the top people tagged in "internetmarketing", "photography", "wine", "tech", "football" and many more.
Another tool they mentioned to automatically register your username on 550+ social media networks – Knowem.com
Other bonus tips from the session:
Steph – Do a themed follow Friday
Joe – Not a fan of auto posting, can screw up esp if you upload a datafeed with 1000 pages then have it auto posted on twitter
Steph – says auto-DMs are a big no-no, looks spammy (Note by Dave, I agree that auto DM's have got a bad rap as so many people do it in a spammy way and people are now sick of being flooded with those DMs like "Download my free ebook by signing up to my site". However I think the intention people have with those auto DM's to build an email list outside of Twitter is a good idea. Best to go about it in non spammy way, like "Hi I'm Chloe, I blog and make videos reviewing shoes and clothes at …"
Joe – recommends not following everyone who follows you, as a good percentage are bots and fake accounts just to spam people.
Someone in the audience also asked a question during the session – any tools that are good at sniffing out the bots and unfollowing? I personally use and recommend Tweet Adder
Steph – Posting videos works well and gets great engagement – video is still pretty untapped
Joe – Content curation is great
Steph – On Facebook you can have one umbrella page and add tabs with specific niches
But on twitter best to have specific different accounts for each niche