Hey guys – watch my video live from Tower Bridge in London 🙂
Question and Answer sites are great for content ideas, and for getting links and free traffic to your website too.
Yahoo Answers is a great source of free traffic for affiliates. Post your answer with your link, the person asking the question will almost always check it out, and so will all the other people who search for the same thing and end up finding this yah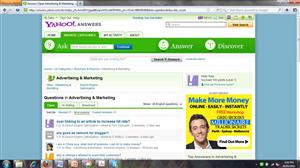 oo answers page.
This person is asking "what is a good ad network for a blogger", people ask all the time, "how do I lose weight", "how do I train my dog" – you can easily post a link to your blog article or even just an affiliate link like a clickbank product that helps them! Just tailor the response to the question so not deleted as spam.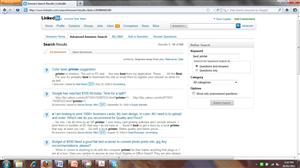 LinkedIn Answers is another one – people are asking for suggestions on the best printer, best scanner, where to get business cards.
An even better one is Quora.com – This is like a social media version of Yahoo Answers for the influencers. You sign in using your Facebook or Twitter account, and many visitors are influencers who will link, retweet and share. You can get excellent direct traffic to your blog, people ask for the best resources and you can list your blog posts, or just answer their question and put a link to one of your articles for more information, you can easily get hundreds of clicks per question answered, as well as easily being shared on Facebook or retweeted.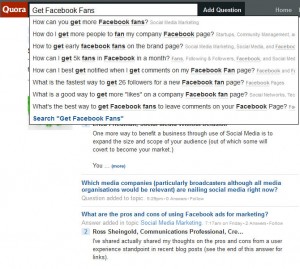 With blogging and social media don't create content blindly, but give the people what they want, you can see the questions being asked out there – look here on Quora, I just type in a few keywords and look at all these questions! These are the things you should be blogging about; these are the questions people out there are demanding blog posts and videos about!
Top 10 Question and Answer sites to get free website traffic for affiliates:
These sites can be hidden traffic goldmines, so hopefully this helps you get more free traffic to your website or blog.