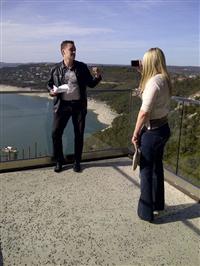 Check out this video I filmed from beautiful Lake Travis at Austin, Texas recapping a great session at Affiliate Summit West 2012 by Dave Taylor on Social Media & Affiliate Marketing (my notes from Dave's #ASW12 session are here) and some thoughts on the future of Social Media impacting Search Engines, Local Deals and Affiliate Marketing.
How Social Media is influencing search results and new developments with Google Search Plus Your World
Check out my Gary Vaynerchuk Accent & Impersonation at 0.40-0.60 – Gary has some awesome insights and I saw Gary on the news the other day talking about how Google "dropped a bomb" and changed search results so you will see results based on what you have liked on Google+ or what your friends have retweeted.
Why Facebook Ads and Sponsored Stories are so powerful:
Successful marketers nuture a trust relationship, then people will listen when you go to sell something
62% of people trust family, friends and contacts for recommendations of brands or products
"We have the cheapest prices" is not as good as "7 of your friends buy our products"
Facebook will show you an ad, then it will show you your friends that have liked that page/group or support that company of have brought that product
When you see "3 of your friends like this" you catch on and pay attention, that is tapping into the social media side of commerce and transactions
Facebook Sponsored Stories takes this to another level, allowing businesses to leverage the power of connections to create ads which are effectively testimonials
Group Buying and Daily Deals Coupon sites for Local Business Marketing
Merchants with Groupon & LivingSocial have to figure out how to turn this one time transaction into a relationship with a customer. Should say the Groupon deal gets you in the door, but to do the deal need to sign up for the loyalty program then get discount on next meal
Location Based Mobile Marketing such as Facebook Deals when checking in to Facebook Places
Proximity and geolocation are huge trends, as you are on your mobile it will say here is a deal for this local business nearby – I saw many times at Caesar's Palace Las Vegas.
Key Points:
With Social Media, it's not about SEO any more, it's about relationships
Successful businesses are all about the relationships you have, and your ability to create and nuture their relationships
Big thanks to my friends Heather from Blendhappy for filming the video and Shawn from AffiliateTip for lunch and snapping that pic!