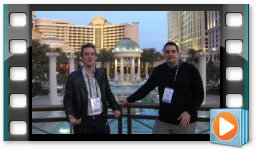 I interviewed ClickBank Super Affiliate Miles Baker from ClickScoop.com who gave tips on Using Facebook & Twitter to Promote ClickBank Products. This was filmed LIVE at Affiliate Summit West 2012 #ASW12 at Caesar's Palace Las Vegas.
Miles has been making money promoting Clickbank products for many years now and some of you may recognise him as his story and videos have been featured on Clickbank.com
Miles talked about using products such as Tweet Adder to automatically follow relevant users on twitter (and automatically unfollow those who don't follow you back) to build a list of targeted customers, so you can then sell Clickbank products on Twitter and also lead people to your website to build your email list using Twitter.
Miles also gave some tips about using Facebook to promote clickbank products, including creating relevant Facebook Fan Pages, driving traffic to them using Facebook Ads, and getting traffic to your website and building your Email list through Facebook to promote Clickbank products.
Massive thanks to Miles for coming on FatCowBusiness TV, was great to have you!
For more Clickbank Tips and info from Miles check out his site ClickScoop.com