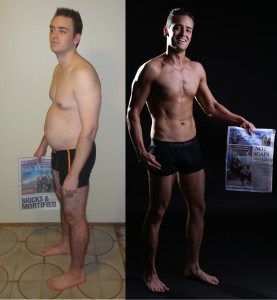 Hey guys,
Dave here – I've actually just personally completed my 12 Week Weight Loss Challenge, I entered both the 12 Week BodyBlitz Challenge (by Australian Iron Man and Women's Health and Fitness Magazines) as well as the Max Challenge aka Max's Muscle Up 12 Week Challenge so thought I would share some before/after pics and some of the biggest lessons learned that will hopefully help you guys!
Height: 6'0″
BEFORE: 93kg
AFTER: 73kg
Massive congratulations and respect to all the other challengers (particularly my friend and last years winner Guillaume Gebert – who I used to train Hapkido with when I was younger) who have absolutely inspired me and blown me away with their amazing positive attitude!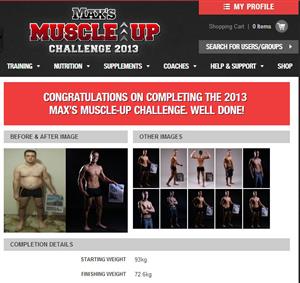 There were thousands of competitors in the Max Challenge who together lost over 16 tonnes! Even people with 3 kids who had just lost their jobs and could barely afford the supplements and had to get up at 3am to fit in their training, very inspiring!
One Lesson – Take action – start small and build that momentum!
I learned to just start small and take action – it seemed daunting at first to lose all that weight but I found the key was to break it down step by step and take action, as action builds momentum and before you know it the small changes add up. I feel way more positive and confident and this has really sparked me to take control not just of my body and fitness but all areas of life. The idea of not just being a zombie sheep and following the diet and lifestyle habits of society or the people around you, but living consciously and really making a decision to have a goal and a game plan and go for it is truly empowering.
I know many of you guys are into not only improving your business but taking control of your health and fitness as well. So if you have been thinking about getting fit and healthy I really encourage you to take action and go for it!
Over the course of the challenge I timed my runs and measured by weights and performance and I saw first hand which foods and which exercises were having the most positive effects on my body.
Since so many people have asked for advice I have created a new book and program called "Boot the Fat: The Fast, Easy, Science-Based 12 Week Weight Loss Program" and have a Free Report on 5 Science-Based Secrets to Lose Weight Fast and Easy.
Get 5 Science-Based Secrets for Fast, Easy Weight Loss at Boot the Fat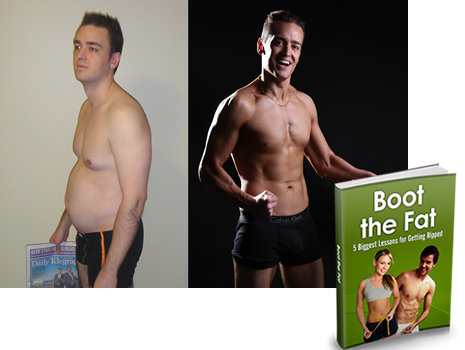 P.S. Would love your thoughts, comments and anything you learned from your diet/training experiences!