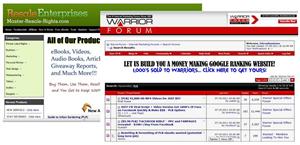 If you want your customers to join your email newsletter, like your page on Facebook or share on Social Media, you MUST give them an incentive and the best way is to give them a free eBook or video or digital content.
To get an eBook or video to give away (or even to sell as your own product), just buy a Private Label Rights PLR eBook or report and you can even make yourself the author and slap on your own cover and brand. (There are many people on Fiverr.com Graphics section who can make you a custom eBook cover graphic for just $5!)
You can also buy PLR articles for site content, PLR graphics for your site like headers, PLR Templates, PLR Videos, PLR Audio and even PLR blogs all set up and ready to go!
My Top 7 Best Sources for PLR and MRR products are:
Warrior Forum WSO Warrior Special Offers section – Tonnes of PLR stuff here, just search PLR in the Warrior Special Offers Section. Usually special deals for warriors and often PLR products sold will be limited to 20 sales or 50 sales allowed ever meaning only a handful of people get the product. And 95% of people who buy PLR products never bother republishing them anyway so you will have almost unique content and be one of just a handful of people online with the rights to those products.
Master Resale Rights – has a large selection of PLR and MRR eBooks and videos. I have found some really good quality products here for extremely cheap prices like only several dollars.
The PLR Store – many categories of PLR/MRR products in a wide variety of niches
Easy PLR – Excellent quality, professionally written articles and reports that pass through 2 writers scrutiny. You can just choose the content you need without having to pay for memberships. Even better many of the PLR article packs are sold to a strictly limited number of people only, and you can see e.g. 2 out of 100 remaining
PLR eBook Club – one of the biggest and best PLR sites with thousands of articles for over 400 niches and new content constantly added, highly recommended by many on the Warrior Forum
PLR Sifu – Smaller source but worth a look
7PLR – Worth a look, purchase individual PLR ebooks and videos
If that isn't enough, Michael on the Warrior Forum made a great blog post listing 208+ PLR Membership sites so you can browse that exhaustive list!