Review of ZoSocial Viral Facebook Contest Lead Generation Software by Wilco De Kreij
Many of you guys are aware of the enormous potential of Facebook competitions to go viral and collect tons of targeted email leads, the problem is just about everyone, even the big companies like Amazon, are doing it wrong.
Because until now you've had two BROKEN options to run contests on Facebook:
1.  App Contests
– Don't work on mobile (so 51% of users never see it)
– Too many steps means fewer entries
– Almost NEVER go viral
2.  Timeline
– Don't collect emails
– Confusing to run
– No tracked results
So you either use a lead-generating contest that won't go viral, or a viral contest that won't get any leads. This is where ZoSocial comes in.
Successful Facebook Developer Wilco De Kreij has been working over the last 6 months on a new strategy that allows you to combine both ways of running contests into one powerful system.
This system basically mixes together the best features of both App Contests and Timeline Contests, allowing you to run automated Facebook Contests that boost engagement and generate 100's or even 1000's of likes.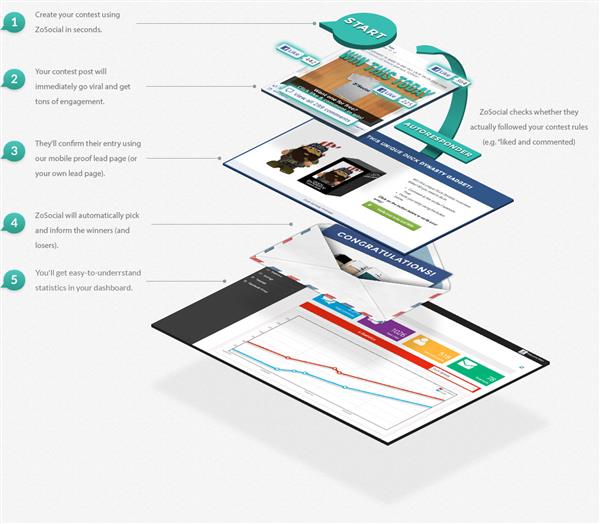 ZoSocial Features:
– Run contests and sweepstakes on your Facebook Pages – so you will get much higher reach when Facebook sees likes, comments and engagement in your page (You won't be running these contests on a 3rd party app)
– Boost your Facebook Page engagement – so you build more likes and as you may know, more engagement means your fans will see more of your future posts
– Build your email list!
– Send Automatic Notifications to follow up with everyone – including the winners, and possible offering a special offer or discount to everyone else
– ZoSocial checks whether they actually liked and commented – ZoSocial checks whether they actually followed your contest rules
– Works with Mobile
– Run unlimited campaigns for unlimited pages – Plus even schedule future contests and measure and track every campaign
– 100% compliant with Facebook's TOS
4 different kinds of Facebook Contests you can run
– Sweepstakes – Makes it as easy as possible to enter by liking & commenting. ZoSocial can pick a winner at random automatically
– Trivia Contests – Ask a specific question, and only those who give the correct answer have a chance to win (100% automated)
– Caption Contests – These really go viral, use ZoSocial to automatically reward the most "liked" comment on your post
– Photo Contests – Run a photo contest and most viral picture submitted on your page win or you can pick the winner manually
Right now Wilco is offering some early bird accounts for ZoSocial, but only for a limited time though.