Hey guys watch my VIDEO LIVE from Washington, DC on tips for bloggers to conduct a covert operation and spy on competitors best backlinks and most shared and linked to pages!
Open Site Explorer is a great free tool to find your competitors most linked to pages. See this example of IncomeDiary.com, which is Michael's blog, really smart guy. We can click and see the "Top Pages" that are getting the most links. Top Earning Blogs, Top 50 Influential Bloggers, Top Earning Websites – maybe it's just me but I'm seeing a pattern here – these blog posts with top lists are attracting links. Michael actually had a blog post about this, saying if you want people to link to you, stroke their ego!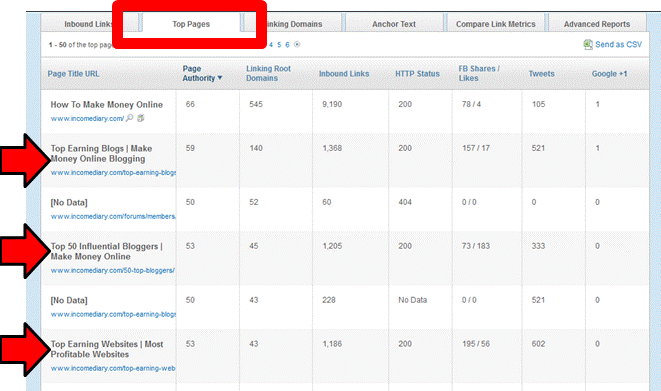 Open Site Explorer also has a fantastic tool to spy on your competitors and find their most influential backlinks. Instead of blindly getting links from anywhere, look at what sites rank for your keywords in Google, look at where they are getting their links from and try and get those same links.
I searched for "Make Money Blogging" and the No.1 result was ProBlogger.net, which is by Darren Rowse, one of the most famous bloggers in the world. So I plug Darren's blog into Open Site Explorer, and it shows the backlinks in order of the Page Authority and Domain Authority, plus shows the anchor text. And his most powerful backlink is from StudioPress which makes the Genesis WordPress Theme, and Darren scored this link by giving a testimonial – which is a another great idea to get backlinks.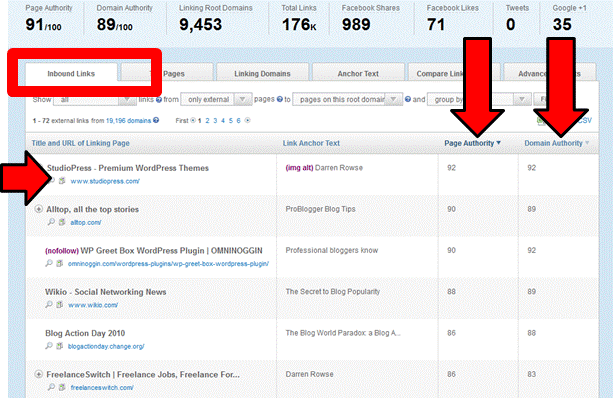 Open Site Explorer by SEOMoz is a multi featured tool that allows anyone working on an SEO campaign to analyze the backlink profile of almost any website. With data on 65 billion URLs and over 9.2 billion links, Open Site Explorer allows the user to gather data on most websites that are ranking in Google, even if they do not yet rank on page one.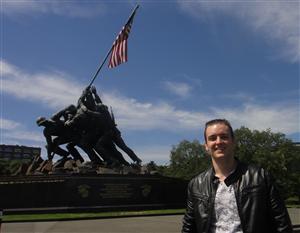 Open Site Explorer uses a unique algorithm that gathers statistics on websites and analyses them in a way that is very similar to Google's search algorithm. This allows the user to get a sneak peak into what Google spiders are thinking when they inspect a website. The tool takes into account the total number of backlinks that a website has and how many unique websites link to that site (also known as linking root domains).
Open Site Explorer also estimates a page and domain authority, which compares the relative strength of the website compared to other websites in the same niche or industry. This allows the user to determine to what degree Google finds the website to be a reliable source of information.
Recently, Open Site Explorer added a feature that allows users to analyze up to five sites at once, making it easy to compare all the most important statistics at a glance. This feature is incredibly helpful to SEO professionals who are working on moving websites from a solid page one ranking up to the top three positions or rank one. While many of these excellent features are available in the free version of Open Site Explorer, the Pro version of the software is a must have for serious SEO professionals looking to achieve high rankings quickly.
Open Site Explorer reserves the most empowering features for those who really want to succeed in SEO. The Pro version of the tool allows users to access all the backlink data on websites, run unlimited reports, and access social media statistics. Ever since Google began incorporating Facebook feeds and Google Plus activity into search results, tracking social media has been a top priority for successful SEOs. Open Site Explorer allows users to stay on top of these trends. Moz understands that most people like to "try before they buy" so luckily, they offer a Open Site Explorer Free Trial.