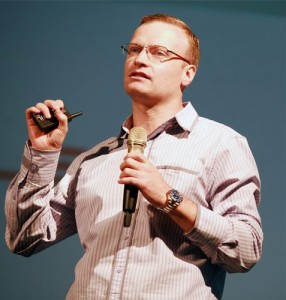 Geno Prussakov from AM Navigator LLC did a very informative presentation on Advanced Affiliate Program Management & Analysis by Geno Prussakov at Affiliate Summit West 2012 at Caesar's Palace Las Vegas, here are my notes and tips:
Five Pillars of Affiliate Program Management
Recruitment
Activation
Policing
Communication
Optimization
Focus today on Policing and Optimization
Affiliate Applications
10 Red Flags
URL-related mismatches
Trademarks in URLs
Nonsensical sounding URLs, very quickly indicate the affiliate who has just applied is actually a spammer
Nonsense descriptions for promotional methods, when they apply they put stuff like "I want to make money", "I love affiliate marketing" – red flag
Incom – Incentive or Cash Back affiliates are mostly not compatible with Cost Per Lead offers, e.g. Insurance or Legal or Auto services leads for filling out a form, any rewards type affiliate with be incentivizing the end user with cash/points and you will get forms filled out with people who are not interested in the service, just want the cash or points
Inappropriateness of affiliate content
Inaccessible (or dangerous) website
Affiliate relying on adware, toolbars, BHOs etc
Lack or response (give them 72 hours)
Strongly negative feedback, on forums, blogs, like on closed groups Geno runs a LinkedIn group on Affiliate Program Management. Merchants can leave feedback on affiliates on shareasale, so other merchants can see
If hired an affiliate program for existing business, if you could base that managers success on 5 measurable things what would that be?
5 KPI's to Measure Success of Affiliate Managers:
Affiliates Recruited – Number of new affiliates recruited into the program, by starting on an established network you will get a constant flow of new affiliate applications, but this is meaningless without activity index
Activity Index – Percentage of affiliates active in the program over a given period of time
Activation – of previously stagnant affiliates
Traffic – increase in hits/clicks sent by affiliates
Sales/leads – increase in sales, focus on monetary figure or leads referred by affiliates
Split testing – method of marketing testing where the performance of 2 versions of landing page are being tested against the other to determine which is best, look at lower bounce rate, better converstion rate
Want to be split testing on an ongoing basis
3 Challenger Pages Tested
Best converting page:
Clear call to action
Testimonials
Clear product headline
What to test
Headlines
Call to action
Page Style and Layout
Images
Description Copy
Prices and Promos
Tools to Employ
Google Website Optimizer
Visual Website Optimizer
Liveball
A/Bingo
PickFu
Vertser
Unbounce
Sitespect's A/B testing
Five Second Test
Vanity
E.g. Avangate – software affiliate network, has link to A/V testing in sidebar, can split traffic between 3 different landing pages and measure which one works better for you
Hasoffers – in house affiliate program software offers similar tool, allows you to create both landing pages and banners and you can pick revenue per 1000 impressions and optimize it based on a specific metric / result. You can either manually pick the winner, or you can let them automatically display the better performing creative more frequently, like Google Adwords.
ABCs, or 5 ways to spy on competitors
Analyse their performance stats, see which of their creatives perform better
Become their customer and affiliate, subscribe to their newsletters
Create automatic monitoring campaigns, google alerts and social mention
Do friend and follow them – not from your corporate account
Employ traffic measuring tools SEMrush, Compete.com, Quantcast
Problems with coupons
Last minute coupon search

, they only search after being on the checkout page and seeing the discount coupon field, they go back and now click on an affiliate link. Macys released in 2010 that they were losing money from this as they have a "Coupon Code" box, they changed it and put a link "Find one now" which links to a coupon page ON MACY's website, so they check for coupons without leaving.

Pseudo- couponing

– when you don't have coupons, but still being featured on coupon site. Some offered sites lie "free shipping" etc even though this is not offered, people still click through on the affiliate link

Coupon affiliates

joining non-couponers programs. Solution- Affiliate referred visitors are not shown the coupon code box.

Coupon scraping

– affiliates harvest the web for coupons and inevitably scrap exclusive coupons meant for specific affiliates. In Aug 2009 buy.at came up with a solution to deal with coupon scraping when one affiliate has an exclusive coupon and another affiliate users it and gets credit. Buy.at created offer central feature, can create coupon and assign to specific affiliate. Original affiliate gets credited. Impact Radius has enabled unique coupon tracking, unique promo code assigned to specific affiliate, regardless of what medium the

Shopbargains on twitter – they just tweet out coupons, and they LOVE when people retweet as it all tracks back when they use the coupon
Adware and Toolbars
Have a TOS clause on Adware
Monitior & Enforce compliance
'Play Without the Ball'
Resources
Ben Edelmen – benedelmen.org
Trademark Violations
When go to Google and search for a brand, one of the first things you see in Google Suggest is reviews, like "BigCommerce Reviews", in the first page there are domains that have these keywords "bigcommerce reviews" like bigcommercereviews.com is on the first page. This merchant prohibits trademarks in page search, but they don't prohibit people using these type of domains.
Do not call it a violation unless you've definited in as such in your TOS!
How to Police:
iTrademarkBidding – itrademarkbidding.com
Brandverity Poachmark – bradverity.com/poachmark
SearchMonitor
AdGooroo
CitizenHawk – for trademarks in domain names
FTC Compliance
FTC charged a merchant $250,000 for deceptively advertising through online affiliate marketers. Merchant in USA but majority of affiliates overseas. They recruited review ad affiliates who posted endorsements as articles and posts and received a substantial commission in return, charged with disseminating deceptive advertisements
FTC rules on endorsements / testimonials, any affiliate relationship is deemed as a sponsor relationship and relationship must be "clearly disclosed by marketer"
Advertiser responsible for educating, equipping and policing compliance
What to do
Put this in sub-clause of Affiliate Obligations clause in TOS
Provide Affiliates with disclose templates
Routintely and manually analyse sites of top performers, whether they have disclosure up
Look into solutions like SearchReviews.com
Tell affiliates you strongly advise them to stay compliant with the FTC's rules on disclosure and you reserve the right to terminate non-compliant affiliates
Performance based doesn't mean effortless
Action Points
Screen applications
Analyze KPIs
Test (to optimize)
Spy on competitors
Monitor

Coupon Violations
Adware & Toolbars
Trademark Abuse
FTC Compliance
Slides at amnavigator.com/blog