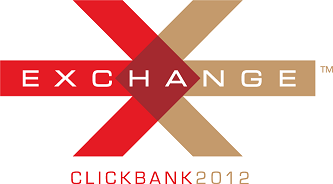 Hey guys,
I am heading over to New York City soon and will be going to the Clickbank Exchange on August 10-11, 2012 at the Marriott Marquis in Times Square, New York City.
Would be great if any of you guys can join me, it is the 2 days (Friday and Saturday) before Affiliate Summit where I am speaking and delivering the closing keynote – hit me up @fatcowbusiness on Twitter if you will be around in New York City!
I also managed to get a Clickbank Exchange 2012 Coupon Code for you guys (for unlimited use – so feel free to share this around to any friends):
On the registration page, enter Clickbank Exchange Coupon Code "fatcow100" for $100 off
Clickbank Exchange was great last year – these people here are real entrepreneurs selling millions of dollars of info products like ebooks and videos online and many have started from scratch into building 7 and 8 figure businesses.
They have a special rate of US$269 + tax per night at the Marriott Marquis which I would recommend you guys take advantage of as it is usually like $500 a night. Get the Discount Hotel Rate here.
I also made a Twitter List of ClickBank Exchange 2012 Speakers you can follow here.
Here are some of the top speakers and sessions that I was looking forward to:
Friday, August 10

10:30am – Influence Power Tools for Online Marketers
Dr Robert Cialdini
Dr. Cialdini is the one of the top living social psychologist in the world today and his books on influence and persuasion have sold over 2 million copies. I loved studying Consumer Behaviour at Uni and learning about psychological triggers and what influences people is always fancinating and I am looking forward to getting some great nuggets from this session.
1:30pm – How to Become a Superhero in Your Market: Mo' Fans, Mo' Money, and Mo' Fun
Andrew Lock, Chris Farrell, Ryan Lee
All of these 3 guys are guns in Internet Marketing so can't wait for this session. I have many friends in the fitness niche and Ryan Lee is one of the top experts there, and now runs some really successful coaching programs with really low refund rates. Looking forward to learning from Ryan and he is one guy who has managed to turn over the big bucks while still keeping it ethical and giving value and having happy customers. He also has lots of great stuff on his blog RyanLee.com which has over 200,000 subscribers.
I'm also looking forward to hearing from Chris Farrell – he has also has many successful training products for beginners including one launch that made over $1 million in sales in 24 hours.
2:30pm – Masterful Interviews, Profitable Content
Susan Bratton
I saw Susan speak at our Affil@Syd conference in Australia and she was great. I actually took notes and made a video after Susan's session with Email Marketing Tips for Affiliates. I agree interviews are a great way to get content and leverage off other peoples followers, so looking forward to getting lots of great tips from Susan in her session.
4:00pm – "Stupid" Copywriting Tricks to Triple Your Sales
Chris Haddad
Chris is one of the top copyrighters behind several multi-million dollar launches and Clickbank #1 products so looking forward to grabbing some tips from him to increase conversions and sales.
5:00pm – Is Selling Evil?
Joe Polish
I saw Joe speak at the ClickBank Exchange 2011 and he was great! Joe consults for $25,000 per half day and has an impressive list of A-list friends and clients including Bill Phillips, Michael Gerber, Eben Pagan, David Bach, Dan Sullivan, Brian Tracy, Dean Graziosi, Robert Kiyosaki and more. I remember Paula Abdul did a video testimonial for him last time, and he also was telling us the power of making a introduction video for ourselves with testimonials from others, I still remember the video Joe then showed us which was awesome.
There is also a Speed Networking session at 6:30pm on Friday
Saturday, August 11

9:00am – The Charge: Activating the 10 Human Drives That Make You Feel Alive
Brendon Burchard
I always find the psychological triggers than drive human behaviour fascinating, and Brendon is one of the top experts in this area and the #1 New York Times bestselling author of The Millionaire Messenger.
10:30am – How to Build a Blog That Attracts an Endless Supply of Leads and Sales
Derek Halpern
Derek has some great tips on his podcasts and Social Triggers blog, especially about building leads, traffic and sales so looking forward to getting some more great tips from his session. Derek is also speaking over at Affiliate Summit in the following days as well.
1:00pm – How to Profit Wildly From AutoWebinars
Mark Ling
Mark has been one of Clickbank's highest selling product owners and affiliates with millions of dollars in sales. I have recently been checking out his latest products Affilorama and Affiloblueprint which have tonnes of videos and content and all the sales copy and the way that has been set up for affiliates to promote is brilliant.
3:30pm – Traffic: Forget Everything Else
Mike Hill
Mike is the creator of the hugely popular CPA Tsunami product and an expert in increasing traffic and conversions so looking forward to getting some great tips from his session.
Then Clickbank Exchange ends with a great cocktail party at 630pm on Saturday … will see you guys in New York 🙂
Hope to see you guys there, but as always just like last time I'll be there and taking lots of notes and making videos for you guys which I would love to send to you guys so make sure you sign up free at to our FatCowBusiness VIP Club.