Justin Rondeau, Director of Marketing, TemplateZone did a great session at Affiliate Summit West 2012 in Las Vegas on "Community, Conversation, Conversion – Social Tips You Need" on Sun 8th Jan 2pm:
A clearly defined social strategy is integral to your success. Learn to set goals, identify key metrics, increase your market funnel, and turn micro-conversions into qualified marketable leads.
Here are some top tips:
Social Media is more than just Facebook and Twitter
Q&A sites / Forums – Quara, LinkedIn, Yahoo Answers
News and Bookmark aggregators – great way to syndicate content – delicious, digg, reddit, if you are making great content but not sending it out anywhere, you are wasting your time
Nearly 17% of time spent online in the US is on Facebook
You got to have goals – clear, measurable
Ask yourself the magic question – What value am I adding to my fans? Or am I adding enough value to my fans. Integrate different ways to have fans share things
Don't spread yourself too thin, there are so many social networks out there, find what works for you and own it. E.g. Justin's company is focused on Facebook atm, not working Twitter properly yet. Don't half ass it.
Social Media Network Traits:
Facebook – great for viewing and sharing content
Very casual
Community focused
LinkedIn – for Pros
Much more stagnant, you can build your personal brand and get away with leaving it, you can set and kind of forget
Google+ – Niched knowledge base and social search. You need to use it, if you have a business online get one
Twitter – good for content aggregation and collaboration
Great for content syndication
Brief micro blog
Constant feed of information
Facebook accounts for 95% of social networking time in the US, that's the juggernaut, the one you should start focusing on
People like faces on Facebook Pages
Victoria's Secret is constantly updating their profile pictures
How you set your profile up with the picture and the default landing page is absolutely critical in getting someone to like your page
Great example, Red Bull – points to like button
Coca-Cola – has lots of content
Bose – doesn't quite get the picture, just a text image, they don't even have a default tab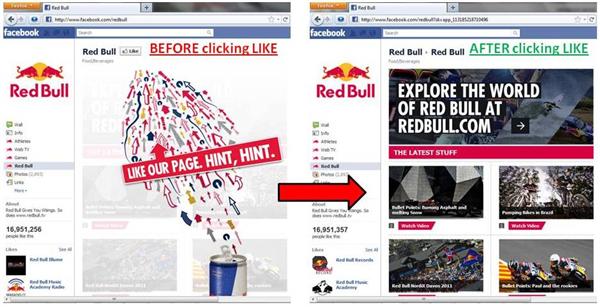 Crafting your Page
–       Fan Gated Content – with a clear call to action – like us for a whitepaper, like us for a coupon
–       Default landing tab is 520 pixels, looks awful if you make it too far out
–       Profile picture 180 pixels x 540 pixels – everyone sees your profile picture, think of this like a banner ad, encourage people within the image to click through
Tools to create landing tabs
Free Tools – Static HTML: iFrame Tabs
Paid Tools – Pagemodo, Shortstack, Wildfire, Social Page Builder, Tabsite, lujure – most have free trials or are free tools with limitation
The wall is the worst landing page … EVER!
Fix it very easily, go to Edit Page > Manage Permissions > Default Landing Tab. As when people land from Facebook or even Google search
Ways to increase traffic to your page
Facebook Ads – can send to Facebook page or website. Including sponsored stories – Justin loves it, you are basically getting a testimonial from one of the users friends that already like it
Social Plugins – creates two way traffic between website and Facebook page
Facebook Ad Best Practice
–       The image is the most important asset on your advertisement
–       Study by Shoemoney concluded most important factors – Title 10%, Body Text 20%, Images 70%
–       One of Justin's ads is a crying baby – Don't cry over bad fan pages
–       Anatomy of title
Clear call to action
Keep it casual, very simple
–       Anatomy of body text
Push benefits, not so much features
Consistent CTA that resonates with the title
Sense of urgency
Support for ads
Area of Interest 1 on the Top Right Hand Side does get a lot of attention
Sponsored stories – ended up being a few cents more expensive, but worked really well
Fan Cycle and Social Reach
Fan Visits Page
Likes Page
Interacts with Page
People within the Fan's Network see activity
Repeat 2-4 and that is how you build the viral effect
Your Design generates a micro conversion
If someone says you will make $$$ quickly within days they are lying
It is the very top of the funnel, you can turn these likes into leads
Edgerank
90% of people interact with a brand SOLELY through status updates
Edgerank – Dictates how often your content comes up in your fan's newsfeed
Increase edgerank by posting fresh content in various forms like videos, photos
Encourage Discussion / Interaction – those fluff posts like how was your weekend? They help increase your edgerank if people comment
Comments help you Edgerank more than likes, so ask lots of questions
Add a lead generation form – this may be your only chance to get a user's email address
Key Facebook Metrics
People reached (used to be Impression Count) – Private
Engaged Users (Private)
Unlikes (Private)
People Taling About this (Public)
Like Count (Public)
Measure your influence
Facebook insights
Crowdbooster – best stats out there bar none, like market penetration in different countries
Social Bakers
TwentyFeet
Unilyzer
Influence- The New Wild West
Peerindex
Klout
Never neglect a fan because they aren't considered an influencer. If someone is excited about your brand and reaching out to you, embrace them
Recap:
–       Design a like gated page with form capabilities post like
–       Post 1-2 times a day with fresh content of different types, don't post too often, that's the number one reason people leave
–       Increase your fans with ads and social plugins on your site
–       Track everything
–       Have fun