As we speak in March 2012 nine buses loaded with 30 entrepreneurs each are heading from various cities around North America to SXSW in Austin, with strangers forming teams on board to create web based companies in just 72hrs along the way as part of the StartupBus Competition. The idea of creating this weekend startup road trip to get to SXSW was created by Elias Bizannes.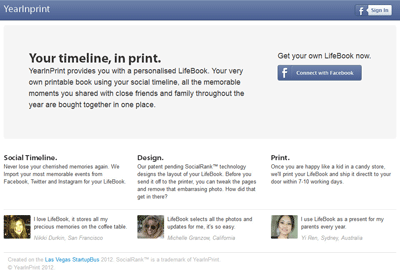 My friend Scott Cowley @scottcowleyau (BDM of OrionVM Cloud Computing) is one buspreneur taking the ride from Las Vegas to Austin, and has teamed up with fellow Aussies Ivan Vanderbyl (who founded testpilot.me) and Bart Jellema (founder of Zeromail) to found a business called "Year in Print" which creates "LifeBooks" or printable books from a users Facebook Timeline.
"Year in Print" with the tagline "Your timeline, in print" is a Facebook/Twitter Plugin which takes the memories posted on Social Networks such as Photos, Status Updates and other posts on Facebook Timeline, Twitter and Instagram and creates a physical "Lifebook" printed book that can be used as a coffee table book or gift for friends and family. Before giving as a gift to your parents, you may want to take advantage of their feature to tweak and remove embarrassing photos.
Support these young Entrepreneurs by helping spread the word on Facebook, Twitter and Google+. Check out what your own LifeBook would look like and check them out at YearinPrint.com and @YearPrint