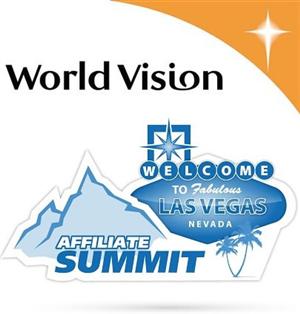 I have a spare Gold Pass for Affiliate Summit ASW12 in Las Vegas, the World's Largest Affiliate Marketing Conference. I don't need this pass as I have another Press Pass for ASW12.
So I have decided to give this away for a 100% DONATION Directly to World Vision. UPDATE – Slashed to $250, last chance! Also this is perfect for any #CES2012 people as this is in Vegas just before the International #CES!
Affiliate Summit West 2012 ASW12 @ Caesar's Palace on January 8-10 – $749 GOLD PASS
YOURS for a 100% DONATION Directly to World Vision
UPDATE – I WILL ALSO PAY THE NAME CHANGE FEE
ALL PASSES TO AFFILIATE SUMMIT ARE COMPLETELY SOLD OUT – So this is your LAST CHANCE to grab this last ticket!
Gold Pass – normally $749 if they were made available
Includes – Admission to Meet Market, Exhibit Hall, Keynotes, Sunday educational sessions; access to all recorded session videos; and PowerPoint presentations. This pass does not include access to Monday and Tuesday sessions in person.
I have the reference number for this pass and have double-checked they can transfer it for you instantly and you can pick up your name badge and pass at the conference, no postage required. I am happy to give you the reference number so you can also check with Affiliate Summit before making the donation. I spoke at the last conference and will be there attending ASW12 too. Special thanks to Shawn, Missy and the team at Affiliate Summit who gave me this pass and allowing it to be sold for charity.
Once you make the donation to World Vision there is nothing more to pay, just EMAIL ME the new details for the ticket (Name, Company, Email, Address, Phone and whether you want Affiliate/Merchant/Agency for your Badge) and I will get the ticket changed immediately, that's it!
You will be making a 100% Donation Directly to World Vision so I do not receive or touch any money, the donation is Tax Deductable too.
You are also welcome to email me dave 'at' fatcowbusiness.com or even SMS me on +61422185700 and I'll finalize the whole thing immediately even if it's middle of the night in Australia 🙂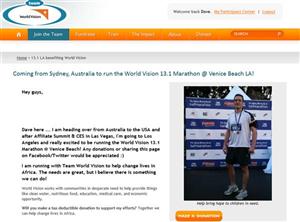 Preferred if you can make the donation directly on the World Vision website – check out my fundraising page on the Official World Vision Website here.
Would also be really appreciated if you can also please retweet and share this on Facebook, Twitter, Email and Social Media to all of your followers: