After stuffing around with many WordPress squeeze page plugins and trying to edit templates and sidebars and get landing pages, I discovered using OptimizePress is by far the quickest, easiest and simplest way to create landing pages in WordPress. Even if you are using another theme, simply install a new copy of wordpress in a subfolder and use OptimizePress as a Theme for that site and you can easily setup all the squeeze pages you want in a few clicks.
OptimizePress Example
Our squeeze pages here on FatCowBusiness are powered using OptimizePress, basically I just took one of their free templates and put in my text, cut and paste my Aweber autoresponder and code and put in one picture and it was live and collecting emails in minutes. See live OptimizePress example at FatCowBusiness.com/join: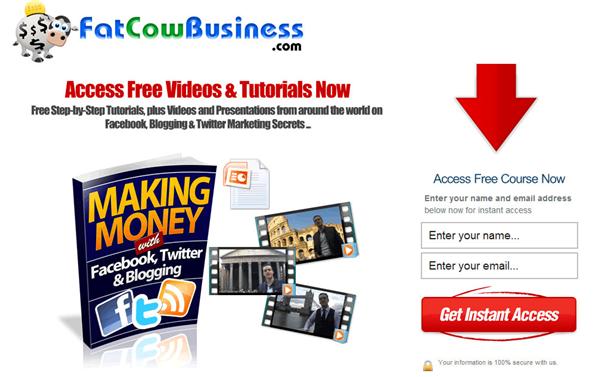 OptimizePress WordPress Theme Review
The OptimizePress WordPress Theme is the simplest and easiest way to create amazing squeeze pages. The hardest part has been done for you; all you have to do is decide the options you want (of course, the content as well).
James Dyson is the man behind OptimizePress. He has been doing graphics for people in the internet marketing field for a little over 5 years. He has also worked with several big names in the field who are easily earning more than 7 figures. He is a person who pays attention to detail and all his pages and graphics are conversion tested. He has now formed a new package packed with all these advantages in an easy and effortless system.
Why OptimizePress Is A Must have

OptimizePress provides an opportunity to make pages that look that they were made by a pro. You have the option to create new, edit pages or add pages. A drop down menu provides the preinstalled shortcodes which are automatically added to your HTML.
The benefits of this software are that you will be able to easily make awesome launch squeeze pages with amazing videos. They will also be able to easily build an email list with the inbuilt squeeze page designs that are just right for your needs, enabling you to generate excellent selling pages that are amazingly effective. The software is so flexible that it will be able to work with any kind of shopping cart, associate program and it would even be able to support any auto responder. There are many times that you hear things like "no expertise required" and you might think that it is not true, but this time it is. If you try to establish some of these pages, it might take months together but with this software it will јust take you 5 minutes to create a squeeze page that as well with very little effort on your part.
The simplicity of this theme makes it a must have; it's a total package for you to be inspired and create. The sky is the limit when adding features to your page. Depending upon which page you want to make, you can add graphics, buy now buttons, bullets, videos, sidebar, header, and so much more.
OptimizePress Features

Features can be added to squeeze pages to sales funnels and offer pages. The codes are already built right into the theme, no matter what type of page you need. What could be simpler? Perhaps built-in SEO features, cross browser compatibility or step by step launch builder system.
The total package includes:
– The OptimizePress Theme
– Eye Catching Graphics Pack
– A Complete Page Building Solution
– A Shortcode Sales Letter Building System
– PDF User Guide
– Support That Is First Class
Not worrying about having to have design talent or coding skills makes this theme even more appealing. Having everything you need already built-in is great and makes the whole process less stressful.
There are multiple templates, graphics, colors and even different fonts for each type of page you can create. You can create 10 of the same page and each one can look completely different.
Truly One Click

This theme was designed with you in mind. Your time is important and so is the work you do. You get to choose the option you want with one click. You can click one box or all of the selection boxes. Change a design and then change it back again. Speaking of "one click", each option is јust a click to accept. It can't get easier than that; a great timesaver and money saver.
Every aspect of creating your unique page is already preset within this theme. You simply get to put it all together. This WordPress theme works great to easily create high quality pages to promote your service or product.
You can get Optimize Press for a discount here using this OptimizePress Discount Link (only $97 instead of $197)