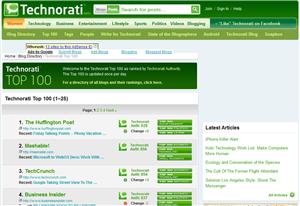 Writing guest posts for other blogs is a great way to get traffic and exposure. Find authoritative sites in your market, and provide quality content and get links and traffic.
This list is aimed towards Internet Marketing / Making Money Online bloggers, but to find the top blogs in any niche like Forex, Dating, Health, You can also see the Top Blogs in your category in the Technorati Top 100 and for your topic in the Invesp Blog Rank Directory.
MyBlogGuest is also a great free resource to find Guest Bloggers and websites seeking Guest Posts.
Here is a list of the Top 20+ Internet Marketing Blogs seeking guest posts (with high PR and Alexa Rank) for you guys:
Technorati
PR7, Rank 919
http://technorati.com/write-for-technorati/
SEOMoz YouMoz
PR6, Rank 419
http://www.seomoz.org/posts/compose
Problogger.net
http://www.problogger.net/guidelines-and-suggestions-for-guest-posts-at-problogger/
PR6, Alexa 1659
WP Beginner
http://www.wpbeginner.com/write-for-us/
PR 6, Alexa 4535
Income Diary – How to Make Money Online
http://www.incomediary.com/write-for-us/
PR 4, Alexa 8768
CopyBlogger
http://www.copyblogger.com/copyblogger-guest-post/
PR 6, Alexa 2695
Social Media Examiner
http://www.socialmediaexaminer.com/writers/
PR 5, Alexa 2223
51,551 Facebook Likes
Tough – they do say you need to be an established authority and have a track record of writing detailed articles.
Social Media Today
http://socialmediatoday.com/how-to-post
PR5, Alexa 5239
42,222 Facebook Likes
Quick Online Tips
PR4, Rank 4411
http://www.quickonlinetips.com/archives/guest-blogging/
Affiliate Marketing Tips from Super Affiliate Zac Johnson
http://zacjohnson.com/interviews-guest-posts/
PR 3, Alexa 16289
Make Money Online with Super Affiliate Jonathan Volk
http://www.jonathanvolk.com/contact/jonathanvolk-com-guest-post-guidelines
PR 3, Alexa 26461
Daily Blog Tips
http://www.dailyblogtips.com/daily-blog-tips-guest-post-guidelines/
PR5, Rank 3888
Blogussion
PR2, Rank 31439
http://www.blogussion.com/write-for-us/
James Martell's Affiliate Tips
http://jamesmartell.com/write-for-us/
PR 4, Alexa 73789
Blogging Pro
http://www.bloggingpro.com/guest-posting-on-bloggingpro/
PR 6, Alexa 18212
TwiTip
http://www.twitip.com/write-for-twitip/
PR 4, Alexa 20247
ZK's Web Marketing Blog
http://www.webtrafficroi.com/guest-post/
PR 3, Alexa 24234
TechnShare – How to Blog and Make Money Online
http://www.technshare.com/write-for-us/
PR 3, Alexa 24420
Technie Buzz
PR4, Rank 4414
http://techie-buzz.com/write-for-us-guest-post
And the new kid on the block … FatCowBusiness.com would also love quality guest bloggers!
FatCowBusiness.com – Make Money with Facebook, Blogging & Twitter
http://apeagency.com/