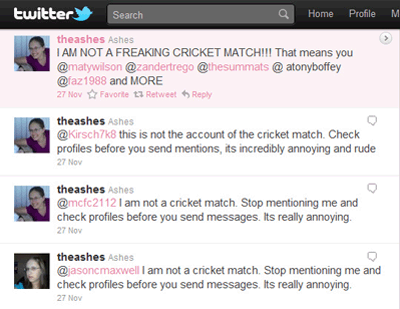 American babysitter Ashley Kerekes who unknowingly chose the twitter username @theashes has been hit for six after being inundated with messages from cricket fans following the First Ashes Cricket Test between Australia and England in Brisbane this week.
She tweeted back repeatedly "this is not the account of the cricket match. Check profiles before you send mentions, its incredibly annoying and rude" until finally flipping out and tweeting "I AM NOT A FREAKING CRICKET MATCH!!!" and "what the hell is a wicket?"
That only fuelled the fire with @theashes becoming an internet sensation, in a few days quickly going from 300 to amassing 7500 twitter followers. Qantas stepped in, offering to fly her from New York to Australia for the Ashes with the #gettheashestotheashes campaign, which soon went viral and had other companies jumping on the bandwagon such as #theashes sponsor Vodafone, offering a free phone and match tickets.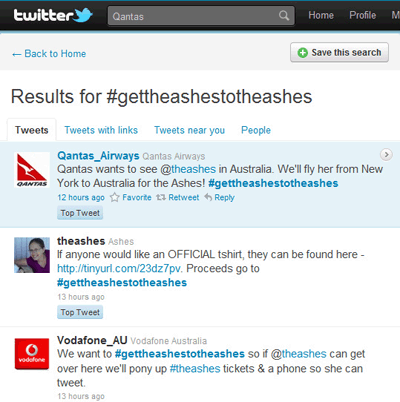 This was an excellent case of the right way to embrace viral social media marketing by Qantas and Vodafone, similar to the famous example of when 2 Coca-Cola lovers in Los Angeles started a Coca-Cola Fan Page themselves on Facebook which took off and garnered millions of fans. Rather than using lawyers to seize the Facebook account and risk being perceived as heavy-handed and alienating company evangelists, Coca-Cola partnered with the enthusiastic fans to run the page together and flew them to Atlanta for a tour of Coca-Cola Headquarters. It was a smart move which paid off, as Coca-Cola now has almost 20 million Facebook Likes and is the 8th most popular Facebook Page in the world. The Red Kangaroo @Qantas_Airways had only a few twitter followers before #gettheashestotheashes but is already hopping up the twittersphere.
So will @theashes accept the offer to come to Australia? At first she was reluctant to travel alone and tweeted a request for two tickets which is very likely to be granted as she is now a celebrity being flooded with requests for media interviews. While Ash promises this was all an accident and she had no idea when she registered the twitter profile, she has also joined the marketing bonanza adding the twitter tagline "If you're going to harass me about cricket, at least buy a t-shirt."
As for learning the rules of cricket, her friendly Indian cab driver should fill her in on the way to JFK Airport (that is what happened to me just recently after an Internet Marketing conference in New York City) the cab driver was so excited to hear I was from Australia, he even played YouTube cricket videos of the Pakistan cricket betting scandal on his iPhone and passed it to me in the back to watch!
We would love your comments below – what do you think of the move by Qantas and Vodafone? What are some of your other favourite examples of great Social Media Marketing by companies? Will this help cricket catch on in baseball-mad America?
For more Social Marketing Tips and Tools check out FatCowBusiness.com Twitter Marketing