G'day Mates, it's Dave here, check out this video I made while chilling with my pet kangaroos here in Australia!
All these kangaroos have been jumping around as they are so excited – and I'm really excited too to be the first ever Australian to be Keynote Speaker of Affiliate Summit, the largest Affiliate Marketing Conference in the world, at the Hilton Grand Ballroom in New York City this August 14 at 4pm.
It's a huge honour and I wanted to say thank you so much to all my friends at Affiliate Summit for all your support 🙂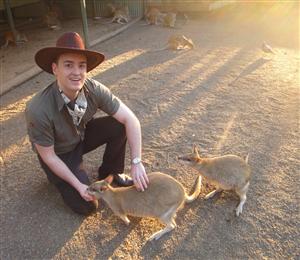 These kangaroos are so excited they even attempt to bite me in the nuts at 0.16 and a Kangaroo knocks over my camera and eats my script at 2.00!
I'll be speaking about "7 Secrets to using Social Media and Affiliate Marketing to live your dreams".
Last time I gave away a boomerang, didgeridoo and kangaroo – and will be giving away some awesome prizes again.
I'm also running the Damon Runyon Cancer Foundation Runyon 5K at Yankee Stadium on Sunday August 12 – I ran this before and it was just inspiring, and we even have an Affiliate Summit team which I highly recommend you guys join. That same week there is also the Clickbank Exchange in New York City as well.
So for any of you guys who are entrepreneurs, authors or do any internet marketing – I totally recommend you join me in New York! These people at Affiliate Summit are amazing and I've been flying all the way from Australia every time for the last few years. Especially lots of my Young Entrepreneur friends from Australia and around the world – it is totally worth the trip to New York! I will be there for most of August and we can do the Clickbank Exchange, Runyon5K and Affiliate Summit, would be great to see you all there 🙂
Tickets are cheaper the earlier you get them so check out AffiliateSummit.com and don't let this opportunity hop away like these kangaroos! I've made lots of videos with tips from sessions and experts from the last few conferences and have plenty more coming up which I'll share with you guys free at FatCowBusiness.com
So I can't wait to see you all in New York City!
P.S. The special discounted rate on Affiliate Summit East passes is until May 11th 2012 so recommend you book your tickets now – I would personally recommend the Platinum / VIP pass which includes access to all the sessions and keynotes.
P.P.S. Missy and Shawn were running a foursquare promotion and giving away FREE networking passes to Affiliate Summit and these would include access to my keynote! This was also only valid until 11th May so you would need to hurry and you can enter by taking and uploading a photo and checking in on foursquare!
You can also use Affiliate Summit Coupon Code ASE12FIVE to get 5% off  when you book your tickets here.
Also check out the official announcement "Dave Cupples to Keynote Affiliate Summit East 2012" and my bio on the Affiliate Summit website: