G'day Mates! This is Dave here coming to you LIVE from Sydney – I'm really excited to be coming soon to the world's biggest Affiliate Marketing Conference, Affiliate Summit in New York City! So a big G'day to all my Affiliate peeps around the world!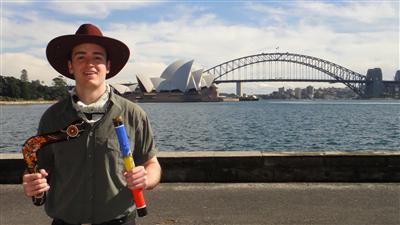 I'll be speaking on Sunday at 2pm about Making Money with Facebook, Twitter & Blogging.  I've got some really fascinating case studies, plus you'll be able to win this Authentic Boomerang and Didgeridoo from Australia! I'm still deciding on the last prize – we've got a Poll going, so help me out and vote – should I give away a Koala, Kangaroo, Platypus or Wombat?
There are tonnes of awesome sessions I'm really looking forward to as well, like Wil Reynold's Keynote, he was fantastic last time in Vegas, and Marc Ostrofsky's keynote, this guy was recently on The View with Barbara Walters & Whoopi Goldberg, so that's the type of go-getters the summit is filled with.
But I'm not flying for 23 hours just for the sessions; the people you meet are amazing, real entrepreneurs, doing inspiring things like Missy and her team hiking the Rocky Mountains for charity.
When I came last year to Affiliate Summit I was blown away, so many people are genuinely about achieving their dreams and helping others. Scott from unmarketing.com summed it up in his speech last time, he said "get to know the person first, then what they do".
I've travelled to conferences all over ever since, and I have to say, if you want to connect with people that care and get that … Affiliate Summit is the best conference in the world!
So check out AffiliateSummit.com – and I can't wait to see you guys at all the parties and sessions at the Hilton New York City, August 21st – 23rd!
P.S. I'm staying another week and would love to film lots of videos around New York City, let me know if any of you guys are keen to meetup 🙂